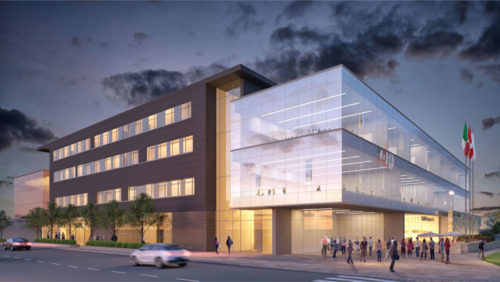 By Carly Midgley
As methods of teaching, learning, and working continue to focus more sharply on collaborative, hands-on approaches, buildings must also adapt to support their modern occupants. An excellent example of this—the Columbus Centre/Villa Charities and Dante Alighieri Academy redevelopment project—is currently in the works at the Toronto nonprofit's Dufferin Street and Lawrence Avenue campus.
This $60- to $70-million project consolidates the school's 850 to 950 students within a single building and updates both school and community centre facilities, adding a wide range of shared-use spaces for students and patrons to draw on. In total, it will dedicate 11,173 m2 (120,265 sf) of space to Villa Charities programming, 14,279 m2 (153,698 sf) to Dante Alighieri programming, and 1374 m2 (14,789 sf) to shared infrastructure such as mechanical and electrical rooms. From a project team comprising CS&P Architects, Pillon Architect, Global Architects, and Gatzios Planning + Development Consultants, the new facility also maintains the existing centre's focus on the Greater Toronto Area's (GTA's) vibrant Italian-Canadian community.
As the only North American project of this kind currently underway, the redevelopment requires some problem-solving from the team—for instance, in determining precisely how the joint-use arrangement will work.
"The joint-use operation agreement is a bit of a fluid agreement, because as the partners learn the building and learn to operate the building, they learn the best way to use those spaces," said Maureen O'Shaughnessy, principal at CS&P Architects, as part of a presentation with Renzo Pillon (principal at Pillon Architect) in April. "I think they'll grow into it, and the building is designed to allow them to grow into it."
One significant addition in the new design is the arts wing. Funding limitations can often make it difficult for schools to provide spaces such as theatres, but Dante Alighieri's partnership with the Columbus Centre means its students will have easy access to such facilities.
The new building will feature a 435-seat auditorium, which students and members of the community may use as need demands (such as for school productions or community events). The arts wing—described by Pillon as the "jewel of the building"—also contains music and fine arts studios, as well as four fully glazed, stage-sized dance studios. Overlooking Lawrence Avenue, these spaces' clear glass walls provide a connection between the dancers and the wider community. The three-storey glass façade along the same street also provides daylighting capabilities.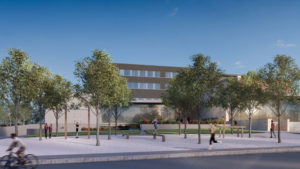 Also included on a shared-use basis are areas for fitness, learning, and even cooking. A culinary studio features telecasting technology that can be used to connect students with instructors from around the world, while a triple gym allows space for both groups to get in shape. Yoga, aerobics, spin, and other fitness studios are available on the ground floor, with student use permitted at agreed-upon times each day.
Communal areas—such as a learning commons and a café area reminiscent of a traditional coffee shop—are promoted as study spaces, but classrooms are available to be used as well. These are designated for academy use during the school day, but open up for community programs (e.g. courses on heritage or English as a second language [ESL]) during off-hours.
Although much of the complex is designed to support the overall project goal of integration, the scope of certain areas (like the classrooms) is more limited. For example, the third floor is exclusively intended for school programming, while the fourth contains Dante Alighieri's design suites and Villa Charities' business offices. However, even these spaces are flexibly designed to allow for shared use if something changes in the future. Cross-corridor doors are employed to divide facility space, but can also be opened to allow the two groups to travel from one area to the other, if both parties agree.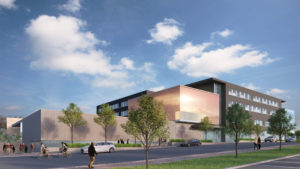 The interior of the building is not the only area considered in this redesign. Outside, a new street—built to city standards for public streets—with a view of the new academy entrance will be constructed. According to O'Shaughnessy, encouraging use of public transit is one of the project goals, but the Toronto Transit Commission (TTC) has not indicated it will change its current pickup and drop-off point at nearby Dufferin and Lawrence to one on the campus itself. Nonetheless, the new street must be sized to accommodate fire-truck turnaround, and will therefore also be large enough to suit transit vehicles if the need ever arises.
Green space and inside/outside integration are prioritized on the building's exterior, with such features planned as:
vegetated roofs (over the triple gym, cafeteria, library, banquet hall, and student and community piazzas);
an outdoor patio for the onsite restaurant; and
a courtyard doubling as the roof of the theatre.
"One of the fun things about the outdoor space when you look at the model is the urban forest," said O'Shaughnessy, referring to the greenery incorporated within the design. "The urban forest has an outdoor parkour kind of exercise equipment and the ability to circumnavigate the whole building—about half a kilometre—for an outdoor running/walking trail."
Also impacting the exterior design is the ever-prevalent issue of parking. The centre's communal spaces—such as the theatre, banquet hall, and gym—can contribute to high vehicular traffic, and the current parking offerings are inhibited by poor organization and the compounded effects of the facility's gradual growth.
"This campus has definitely grown, and while at one point there were more tennis courts and whatnot, those were all eaten away with parking," said O'Shaughnessy. "This tries to restore part of the character of the site and, again, build on those necessary pedestrian/vehicular links."
To help maximize available space, Dante Alighieri's designated parking area becomes joint-use after school hours. Further, to ensure the new centre's parking facilities are shaped by actual user need rather than generic zoning requirements, a traffic consultant has been engaged to count cars and assess usage.
The design was updated following an open house with the Toronto Catholic District School Board (TCDSB) last month, when concern was expressed because no swimming pool was planned for the new facility. An 8.5 x 17.5-m (28 x 57-ft) pool with resistance jets has now been incorporated. Change facilities with private showers, sauna, and whirlpool are also planned, limited to Columbus Centre use. Some of the features in the current Dante and Columbus Centre facilities—such as racquet courts and a daycare—will be removed in the new development, although construction on a larger daycare is underway at the current high school site.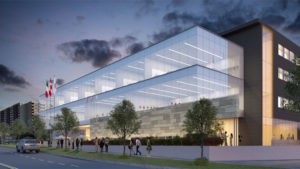 The existing centre will be vacated by the end of the year, with temporary facilities set to be occupied by January 2018. The demolition process—which will take two to four months—will begin in February, followed by a 24- to 30-month stretch of new construction work. No further construction is currently planned, but if any were to occur, it would likely be on the site of one of the existing parking lots, with an eye to preserving green space and further consolidating parking.
By uniting and organizing facilities and functions, the Columbus Centre/Villa Charities and Dante Alighieri Academy redevelopment project will enhance both bodies' offerings and help make the most of available space in increasingly cramped Toronto. The planned facility stands as an example of the crucial role adaptability and collaboration will continue to play as the construction industry develops.

Control the content you see on ConstructionCanada.net!
Learn More.