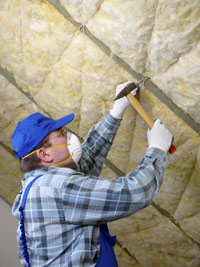 Canadians use almost one-third of the country's energy for heating and cooling buildings and homes. To help cut this number in half, North American Insulation Manufacturers Association (NAIMA) Canada has released its energy conservation predications for 2012.
"Looking back on all that happened last year at the national level with codes and voluntary programs, and seeing the strong provincial participation in these initiatives, certain themes stood out," said Marek Kapuściński, PhD, NAIMA Canada's technical director.
Some of the organization's energy-related conservation predictions for this year include:
• rising energy costs will make the payback period for installing insulation even quicker;
• more Canadian communities will adopt 'solar-ready' new home construction regulations like Campbell River, B.C.;
• this will be a record year for homes meeting higher energy efficiency standards in Canada than ever before;
• white or reflective roofs and green roofs will be increasingly embraced across the country to combat summer cooling bills;
• banks and financial institutions will see the reduced operating costs for more energy-efficient homes and buildings; and
• the updated National Building Code of Canada (NBC) will include energy efficiency measures for homes.