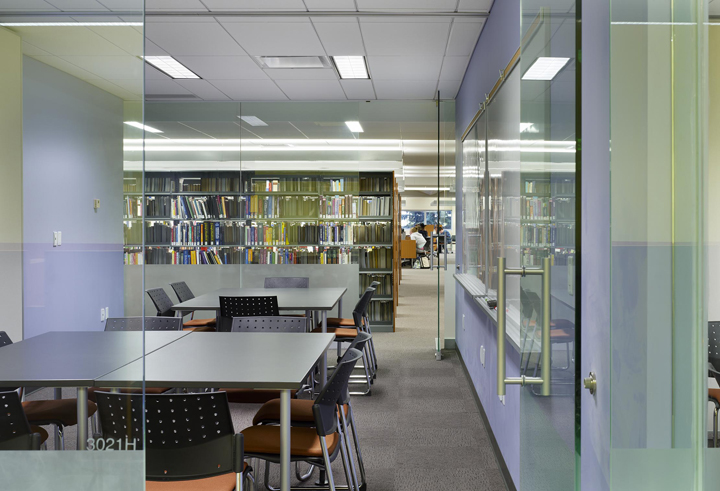 In the 21st century, to specialize in innovative designs for educational facilities means responding to constantly evolving settings, models, and technologies. Successful projects encourage curiosity, exploration, and collaboration amongst students and staff; they are predicated on the principle every space has the potential to be a learning space.
Designed by Toronto-based CS&P Architects, the Crescent School project embodies this approach. Over the past decade, the firm has undertaken several renovations and construction projects including a new theatre, middle school wing, and robotics lab. Currently, a 1579-m2 (17,000-sf) Learning Commons is under construction, which will serve as a hub of campus activity at Crescent School. The facility will feature multi-level spaces, mixed media, advanced technology, and a strong connection to the surrounding nature outside. The generous use of glass will provide transparency, flow, and connectivity between the interior spaces.
Sustainable features are integrated throughout the building. A few key points include:
high-performance glazing to help moderate interior temperature and natural daylighting;
30 per cent grey ceramic frit on exterior glass providing extra shading and a visible marker for the birds in the adjacent ravine;
vegetated roof assembly with efficient irrigation and water retention features; and
permeable pavers that increase efficient stormwater management onsite.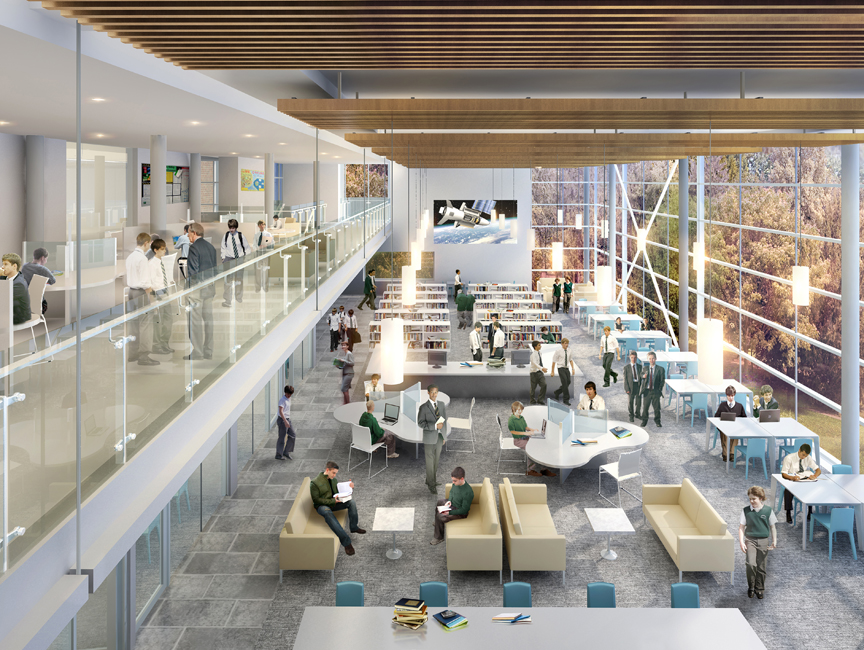 The Learning Commons program is mostly integrated with post-secondary educational facilities, but Crescent School recognized the benefits of the model for younger students as well. Designers explored how the model could be adapted for an elementary and secondary school setting (i.e. Grades 3 to 12). The Learning Commons is typically made up of seminar rooms, computer zones, lounge seating, and information kiosks—all of which are relevant to a younger student demographic. Interesting questions that arose throughout the design process include:
Should food and drink be allowed in all areas?
What is a comfortable level of noise? and
What role do books have in current research and information processing?
During the schematic design phase, the client team was taken to visit a few surrounding colleges home to recently completed CS&P Learning Commons projects. One precedent at Toronto's Sheridan College features small-scale seminar rooms around the perimeter of the large main room. This semi-private zone is acoustically protected, yet visually open to the main space where the computer stations are in constant use by students working individually or in groups. Information kiosks are positioned centrally to help guide visitors. Throughout the facility, there is a sense of natural daylight, good indoor air quality (IAQ), sound sensitivity, and occupant comfort. The Learning Commons at Sudbury's Cambrian College is another precedent providing an innovative atmosphere. Books have a substantial presence in the Learning Commons, with breakout and multimedia spaces organized around the stacks.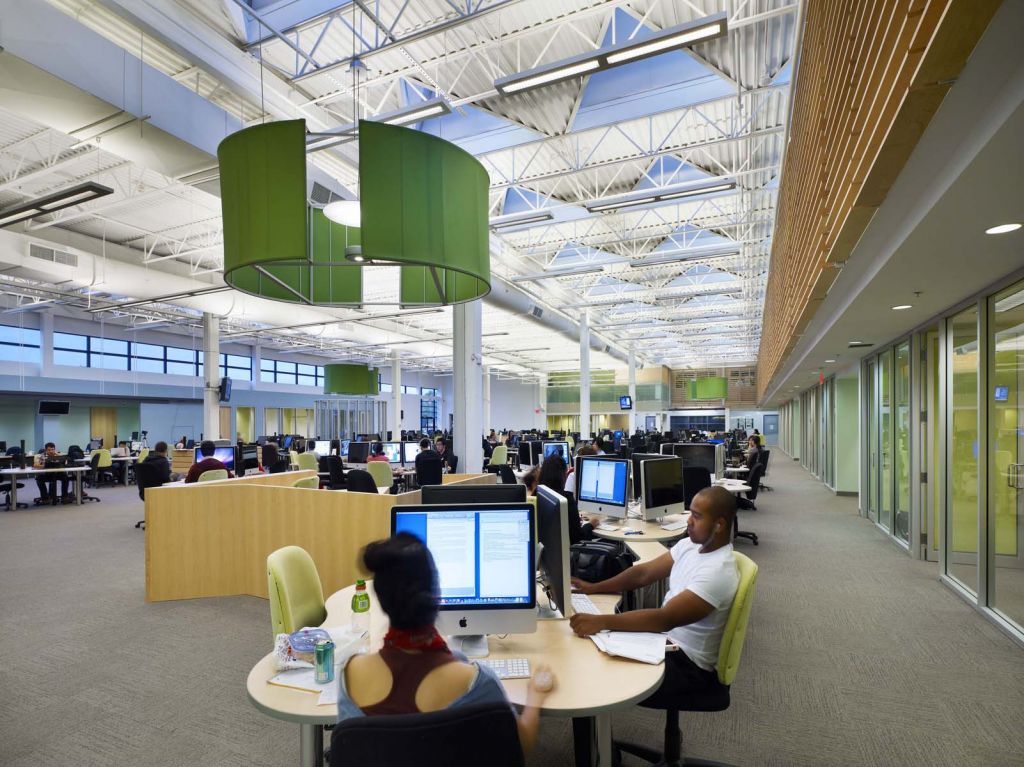 Design challenges in these environments include how to use technology to provide flexibility for future changes, and how resources can respond to contemporary research methods.
It is clear the traditional model of a classroom with students sitting stationary and facing forward is no longer ideal for contemporary learning. The classroom of the future will inspire rather than contain. It will support collaboration and multiple learning styles to promote each student's intellectual and social development. The role of the architect when designing an educational space is to increase the opportunities to interact, both in the digital and tangible worlds.
Joanne Frisch in an associate at CS&P Architects. Since joining the firm in 2007, she has established her versatility in both design and production on a wide range of projects in Ontario, including elementary and secondary schools, university buildings, and recreation facilities. Frisch received her bachelor of science in architecture from McGill University, and her master's degree in architecture from the University of Illinois at Chicago. She is the founder of Open Eyes Toronto (OYT)—a creative collective that generates dialogue across disciplines and inspiration from the surrounding environment. Frisch can be contacted at jfrisch@csparch.com.


Control the content you see on ConstructionCanada.net!
Learn More.