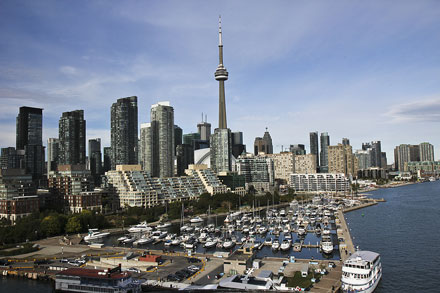 Over the years, Toronto's skyline has been filling up with glass towers, but according to industry experts, what may be nice for style and views can be detrimental to energy efficiency.
According to a report by CBC News, buildings with high volumes of glass can be inefficient due to:
• insulation failures;
• water leaks;
• skyrocketing energy and maintenance costs; and
• declining resale potential.
Some engineers, like Halsall Associates' Sally Thompson, M.Sc., P.Eng., have pointed out some of the inherent issues with glazing.
"Two panes of glass, with air or a gas in between, installed in metal frames (albeit thermally broken) is simply not as good an insulator as a more conventional insulated wall with concrete or brick and a layer of batt insulation," she told Construction Canada Online.
Thompson explained the thermal efficiency is an issue for almost all glass towers. There are some built with high-performance glazing, which is somewhat better, but still not as good as an insulated wall. That being said, one also cannot see through an insulated wall, so there is a balance to be struck. Small residential units need enough windows to feel open and spacious, but not too many. In offices, glass is good—it provides light during the day when occupants are there. In residential projects, however, windows do not offset lighting energy use in the same way.
"The thermal performance is not a defect-related issue—it is the nature of the beast," Thompson said. "By design, these systems are less thermally efficient than insulated walls. If, as the system ages, it becomes leaky due to degradation of weatherstripping, it can become even more of an energy problem, but this is not what was really being discussed in the recent coverage; it was the fact that right from day one these are less thermally efficient systems."
However, the cladding is only one factor in the building's energy efficiency, with other important contributors including the design of systems like HVAC, lighting, and pools. The difference is these other systems have a shorter service life than the window wall and can generally be upgraded to more efficient assemblies.
When asked how long the glass towers can last before re-skinning occurs, Thompson said it will be a function of two factors. If energy costs rise as is anticipated, these double-glazed systems may look as bad in a few years from a thermal efficiency perspective as single-glazed systems do now. When deciding if thermal performance is a reason to make a major modification like this, most owners do an energy payback calculation which effectively calculates a rate of return (ROR)—the net present value of the energy savings compared to the capital cost of the upgrade. The higher the energy costs, the more likely a project is to proceed. Currently the payback would be more than 20 years, so thermal performance is unlikely to drive replacements. This may change over time.
The second factor is 'other' performance. A leaky window wall system is more likely to be replaced or retrofitted than one that does not leak—just like spending more money fixing a car, one decides based on history if it is worth throwing more money at repair or if it is time for a new car.
"We actually don't know yet how these systems will be renewed or replaced," she explained. "Replacement would be exceedingly difficult and disruptive to the residents, so it is more likely they will be retrofitted or overclad. Vacuum insulated glazing is likely to form part of the solution. It is a new glass product which has much higher insulating values than traditional double-glazing. There are some bugs to work out because it leads to condensation problems right now, but we are confident the industry will develop a solution well before most window walls need to be renewed."
Thompson said it is reasonable to assume a major retrofit will be needed within 40 to 60 years of installation. Before that, sealant installation and replacement, glass replacement, weather stripping replacement, and leakage repairs will also be necessary. All these projects should get planned in the condominium's reserve fund study, which is updated every three years.
Additionally, Thompson said a labelling system showing the energy performance of the building should be made mandatory as it helps purchasers understand what they are buying, urges builders to construct higher performing structures, and encourages existing buildings to upgrade to stay competitive.