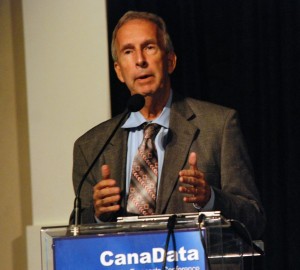 When it comes to the Canadian construction industry, experts are predicting a stable, if not quite spectacular, future. At last month's 26th Annual CanaData Construction Industry Forecasts Conference, pundits examined the state of domestic and international economies, exploring the impact on the country's building community.
The Reed Construction Data event, which included a keynote luncheon by CBC business journalist Amanda Lang on productivity, assembled economist and consultant presenters to Toronto's Liberty Grand to decode the influence of commodity prices and world trends on housing and non-residential projects. Much of the talk centred on how the global recovery has continued slowly in the wake of recent events, and that Canada seems to be faring better than Europe and the United States on many points.
Reed Construction Data general manager, Mark Casaletto, highlighted the promise of resource-driven 'mega-projects'—Albertan tar sands, Northwest Territory diamond mines, oil off the Maritimes, and hydroelectric work in Québec—while the company's chief economist, Alex Carrick, painted a picture of the current construction climate.
Multi-family starts look to remain strong, with commercial construction expected to rise. The non-residential realm is more buoyant in Canada than the United States, with office vacancy rates also lower. Both healthcare and education construction had huge years in 2010, and the next three years are expected to be good, but not quite so elevated. Further, work related to engineering and infrastructure (i.e. oil/gas, communications, electric, sewage/waterworks, transportation, and marine/mining) is expected to increase by about eight per cent over the next four years.
The event, which brought together members of the building community from across Canada, was largely very positive. Still, perspective was important. When discussing the country's economic stability, Scotiabank Group's chief economist, Warren Jestin, kept things in context—"We're not winning any beauty contests, but we have less ugliness than the others."
For more information, visit www.canadata.com.