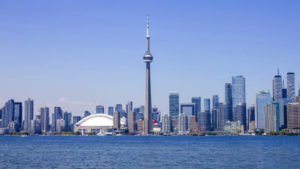 University of Toronto's newest research centre—consisting of cross-disciplinary university academics and 12 construction and architecture companies—­­­will find ways to meet the urgent and growing need for infrastructure, without compounding the negative environmental impact.
The newly created Centre for the Sustainable Built Environment is part of University of Toronto's faculty of applied science and engineering. One of the members of the academic team is Prof. Shoshanna Saxe—belonging to the department of civil and mineral engineering (CivMin)—who has been given the title of Canada Research Chair in Sustainable Infrastructure. Apart from Saxe, the new centre comprises of six other professors with diverse expertise in life-cycle evaluation of construction projects and setting out national carbon budgets. The other members are Prof. Evan Bentz (CivMin); Prof. Chris Essert (Law); Prof. Elias Khalil, from the department of mechanical and industrial engineering (MIE); Prof. Heather MacLean (CivMin); Prof. Daman Panesar (CivMin); and Prof. Daniel Posen (CivMin).
The industry side of the centre sees participation from Colliers, the Cement Association of Canada, Chandos Construction, Mattamy Homes, Northcrest, Pomerleau, Purpose Building, Inc., ZGF Architects, Arup, SvN Architects + Planners, Entuitive, and KPMB Architects.
"In Canada, and around the world, we have a huge housing deficit, a huge infrastructure deficit—there's a big social need to build much more than we have right now," says Saxe. "At the same time, construction resource use accounts for up to one-third of total global greenhouse gas emissions each year, a problem that is getting worse. It's been estimated if we continue current ways of construction, by 2050, the emissions due to new housing alone will cause us to blow past two degrees of global warming. If we want to avoid that, let alone reach net zero by 2050, we need to find ways to do more with less."
Saxe and her team will look at this problem from different perspectives to find efficiencies in the construction and design processes. Where new housing is built, along with its shapes and forms, are important factors. According to Saxe, people in metropolitan centres consume less resources on average compared to those living in the suburbs. Because of the density factor in metropolitan centres, more people per m2 (sf) have access to the same infrastructure. As a result, well-planned cities carry huge advantages. Further, for Saxe, a lot of residential architecture in Toronto features slender high-rises where a lot of space is wasted in the hallways. She thinks there must be a way to avoid constructing hallways altogether to make way for more housing, or just to bring down material usage, emissions, and costs. Another structure Saxe knows is responsible for a large proportion of the construction sector's carbon emissions is the concrete basement. Whole or part of the structure could be built above-ground to lower emissions, or alternatives to high-carbon concrete could be used.
The team will determine ways to build housing which does not result in people living in a space the size of a closet, or a 325-m2 (3500-sf) single-person apartment, but rather a middle ground where everyone can appreciate a balanced lifestyle without harming the environment.
"The conversations we have with our partners can inform their design and construction, as well as the conversations they then have with their clients, raising everyone's level of knowledge and awareness," she adds. "We hope by giving people—policymakers, designers, and builders—the tools they need to address these challenges of building more with less emissions, we can improve outcomes across the built environment and create a more sustainable future for everyone."