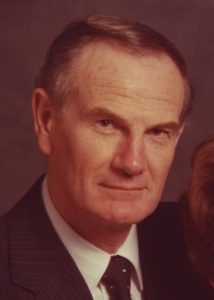 Robert E. Briggs passed away on May 5, 2018, in Toronto at the age of 92. Briggs was a founding member in 1954 of Specification Writers Association of Canada (predecessor to CSC). He served as a director in the early years, as treasurer from 1955 to 1958, and as president 1958-1959.
During his time as president of CSC, he was part of the group developing the Building Construction Index (BCI), the forerunner to today's MasterFormat. Briggs was elected to the CSC College of Fellows in 1972 and was awarded CSC Life Membership in 1998.
Earlier in his career, during WWII, Briggs served in the Royal Canadian Navy, Fleet Air Arm. After discharge, he graduated University of Toronto in 1951 with BArch (honours). He later became a Fellow of Royal Architectural Institute of Canada (RAIC).
Briggs strongly believed in co-operation among all disciplines in the construction industry. In the Spring 1959 issue of the Specification Associate, (predecessor to Construction Canada) he wrote:
"Once we approach the business of specification writing objectively, we immediately recognize the need to establish standards of materials and workmanship. Each standard can only be established through the joint efforts of the architect, manufacturer and contractor.
"Recognizing the problems facing my profession, I joined with a group of fellow professionals to help found SWAC in 1954. It was the founders' belief that improved standards of specification practices could only be achieved through the collective action of an association comprised of all segments of the construction industry.
"I have continued to be a member of the SWAC because in the short space of four years this association has proven by its activities, its growth and its recognition in the industry that it is the organization uniquely qualified to achieve its objective—the betterment of specification writing and practices. Its success is assured by the devoted efforts of its membership."
Briggs talked more about unifying the industry in a 2003 interview: "I was on the Ontario Association of Architects' legal committee for about 16 years. We were members of a national association of architects, engineers and contractors that became the Canadian Construction Documents Committee (CCDC)…
"I remember convincing the committee, although it wasn't very hard, to add SWAC as a member. I felt profoundly that the most valuable committees to be involved in were joint committees that brought all the disciplines together… As SWAC was a multi-disciplined organization, it did a very much-needed thing—that was improving and unifying our industry and professional skills."
In that same interview, Briggs said he gained a great deal of knowledge as result of his membership in CSC, and many wonderful friends.
Briggs was predeceased by his loving wife Jean (Coleman), and will be missed by his five children, Neil (Liz), Wayne (Terri), Earle (Lynn), Valerie Hannaford (John), and Andrew (Elizabeth), grandchildren, and great-grandchildren.