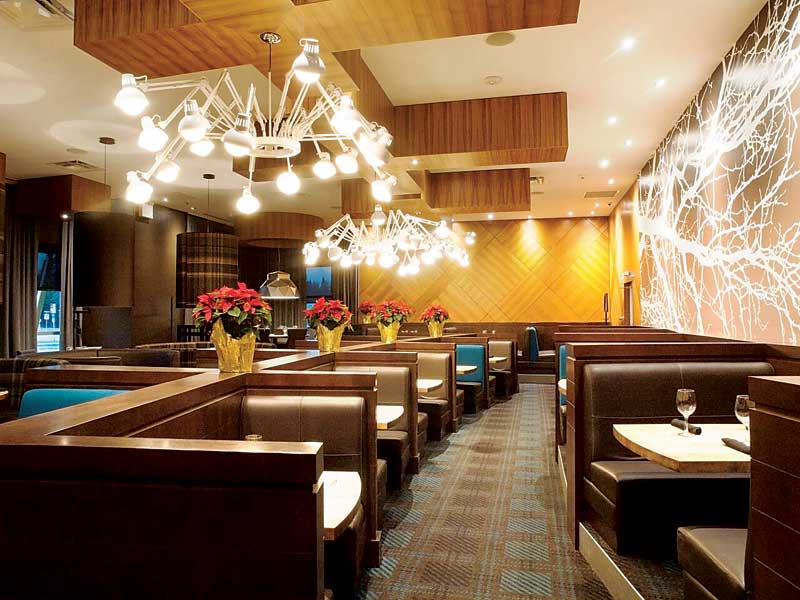 Linking designers to the millwork industry
The millworkers of Canada have been working and learning together in an association that started in the 1920s in Vancouver as the Mainland Millwork Association. It continued in the 1950s as the Architectural Woodwork Association (a defacto Canadian Chapter of the American Architectural Woodwork Institute [AWI]), and in the 1960s as the Millwork Manufacturers Association in BC. Finally, in 1970, it became the Architectural Woodwork Manufacturers Association of Canada (AWMAC), representing British Columbia, Alberta, Saskatchewan, Manitoba, and Ontario. This association, with the addition of Atlantic and Québec chapters in 2001 and 2010, has become a truly national entity.
AWMAC represents architectural woodwork manufacturers that produce and install the woodwork components in restaurants, hotels, casinos, offices, malls, schools, hospitals, assisted living complexes, and custom residential settings. Its membership also includes the material suppliers to those manufacturers, community colleges offering woodworking programs, design authority firms active in the specifying of architectural millwork, and industry research and advisory persons.
AWMAC has developed the woodwork standard for Canada and has been an equal partner in developing the standards for North America. Its standards were first published in 1972 as the AWMAC Quality Standards, and then reissued in 1978, 1984, 1991, and 1998. Then, in collaboration with AWI, it co-published Quality Standards Illustrated (QSI) in 2003. This was followed by Architectural Woodwork Standards (AWS), which was published in 2009 and 2014 as a collaboration with AWI and California's Woodwork Institute (WI). The work and knowledge that have gone into these publications makes them an invaluable resource for everyone that designs, specifies, builds, or installs cabinets and millwork.
The AWS Manual has become an important text in community college woodwork program courses, with all of those recent graduates introduced to its contents. AWMAC has also published two 'mini booklets.' One focuses on the information from AWS Section 10−Cabinetmaking, and is used as a reference at the work bench in schools and businesses, while the other draws on all the installation information in the AWS and is utilized as a quick reference guide for installation crews on project worksites.
Inspections
AWMAC has developed the Guarantee and Inspection Service program (GIS) to ensure adherence to those standards on any project for which it is specified. It is essentially a system of monitoring millwork manufacturing, materials, and installation to ensure AWS standards are followed.
AWMAC appoints an inspector who is contracted to inspect the millwork production in at least three stages:
shop drawing;
mockup cabinets; and
after site installation.
Reports from these inspections are issued to the architect, general contractor, and millworker at each stage.
GIS is a tool for the specifier, architect, and owner to use to effectively control the quality of the millwork product. The program only comes into effect when the specifier calls for its use in the project specifications. A sample of the suggested wording can be found on the AWMAC website. Specifying GIS promotes integrity; it is a mechanism to ensure compliance.

Control the content you see on ConstructionCanada.net!
Learn More.