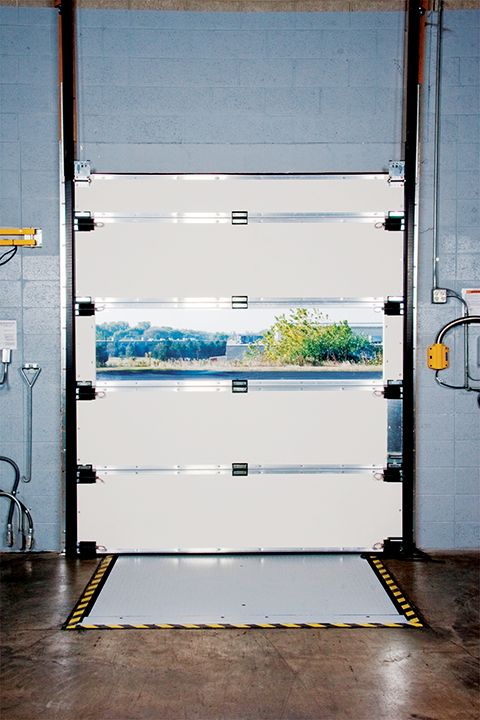 Canada and its Atlantic waters are threatened by an average of six tropical storms a year, according to Environment Canada. Given the devastation caused by gale- to hurricane-force winds, and the driving rain that often accompany these events, investing in proper planning is critical.
Due to the potential sheer size of hurricanes, Canada's interior is not invulnerable to such events. One of Mother Nature's most recent devastating storms impacted interior Canada in 2012 when Hurricane Sandy made landfall in New Jersey. The hurricane system then tracked northwest into Ontario and southern Québec with extremely high wind gusts. Sarnia, Ont., was particularly hard hit a result of strong north winds off Lake Huron.
Of particular concern are commercial operations, especially warehouses and distribution facilities that find themselves increasingly exposed to danger and injuries as a result of numerous overhead doors and 24-hour operation. The potential for billions of dollars in damage and injuries to personnel when a hurricane makes landfall, or a tornado touches down, is motivation enough to storm-proof operations during construction.
Having a door that can withstand high winds is crucial to a building's survival and employee safety. About half of the damage to a distribution centre's contents, and injuries sustained by employees during these events, is a result of the dock doors being ripped from their tracks and off the walls.
Moreover, the door is the only moving part one must consider on the building's structure. Most other components—such as the walls or roof—are securely fastened into the building materials. In the parts of the country that could potentially experience devastating storms, commercial buildings must have doors that stand up to the pounding wind and flying debris, yet do what they are supposed to routinely do—open and close to efficiently handle truck traffic on the loading dock.
Whenever commercial building owners are unaware of the importance of proactively designing and building to reduce damage to their facilities and the disruption to schedules, insurance companies, and, consequently, the code-writers for provincial and local governments, will remind them.
The role of building protector
Do high-wind events and the potential for extensive property damage provide companies with an option to help reduce losses and business interruptions? How can warehouses and other facilities protect assets from these storms?
Wind loads are the pressures exerted on a structure (and the components comprising it) due to wind. They are assumed to act both toward (i.e. positive pressure) and away (i.e. negative pressure) from a building's surface. Stepping into this role as a building protector are wind load-rated, impactable loading dock doors, already designed to stand up to impacts on the inside of the building. Now, these doors are available in wind load-rated designs to even meet the highest of requirements for resistance to forces and impacts outside the building.
Impactable dock doors were introduced to address the common damage and downtime issues associated with traditional metal overhead doors used in distribution centres and warehouses. Traditionally, these openings are similar to a standard garage door, and hardly built to take a hit from a forklift, much less withstand hurricane force winds.
The widely accepted use of impactable dock doors has enabled distribution centres, manufacturing plants, and other commercial facilities to address the common damage and downtime issues that come with forklift impacts, saving considerable damage, energy loss, and reducing operating costs.
With an impactable door protecting against forklift impacts inside the facility, a logical next step was to enable them to stand up to high-wind events and flying debris from hurricanes, tropical storms, or tornados that can injure employees on the docks and in other areas of a facility.

Control the content you see on ConstructionCanada.net!
Learn More.