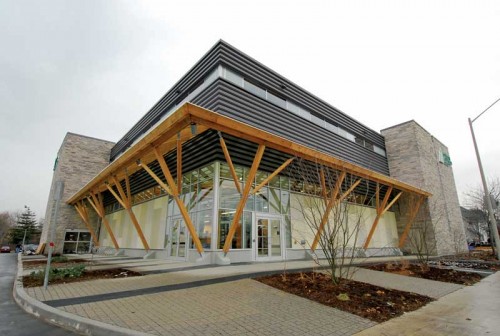 By Stephen Carpenter, P.Eng.
Is a green building defined by what it looks like? Should it have various 'sexy' technologies like solar panels, green roofs, and straw bale insulation? Or does it need to have low off-gassing materials, plentiful daylighting, and native species landscaping?
Instead of defining a green facility by a checklist of technologies, one should define a building by its actual reduced environmental footprint. As the most significant direct impact of structures, energy use should be the most important way they are ultimately judged. Without significant, monitored energy savings, no facility should be called 'green.'
Where we are now
How does one know if a facility saves enough energy to rank among the most energy-efficient? There is very little data on the actual energy use of individual Canadian buildings, let alone a way to objectively identify the top-performing ones. All that is really known is the average commercial/institutional building in this country uses almost 400 kWh/m2 (37 kWh/sf). (See the Commercial and Institutional Consumption of Energy Survey (CICES) 2005 database).
To help rectify this lack of data on actual building energy use and separate structures designed green from those that actually are, a new website was created. Green Buildings that Work—supported by the Canada Green Building Council (CaGBC) and Union Gas––provides a simple database of the energy use of Canada's most energy-
efficient commercial/institutional buildings, developers, design teams, and academics. (For more information, visit www.greenbuildingsthatwork.ca).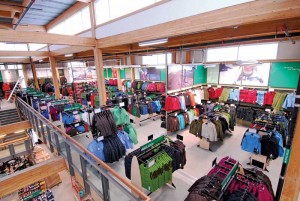 Of course, green buildings should do more than just save energy—water consumption, occupant health and comfort, sustainable materials, and site considerations are also important. Therefore, the website includes case studies for more information about these projects on how the building design team and building operators accomplish energy and other green goals. The site also provides project team information for the design team so interested professionals can ask for further information.
The goal
To qualify for the database, a building must prove exemplary performance through submitting actual utility bills. Buildings on the site must achieve an Energy Star score of 80 or higher (meaning they are in the 80th percentile compared with the actual energy use of other North American buildings of that type) and at least 50 to 60 per cent energy savings relative to the average Canadian building of that type.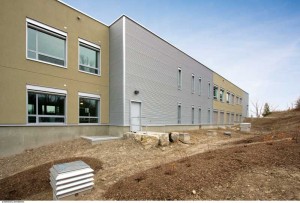 Before the building industry can create goals for Canadian high-performance buildings (e.g. net-zero and carbon-neutral) or for an individual green building project, the benchmark for green buildings must be established with actual performance numbers. This database can be seen as the first step toward a greener built future.
How to get a 'green building that works'
Achieving a truly sustainable building involves simple design. Unfortunately, many engineers are prone to oversizing equipment, adding unnecessary control complexity, and using old rules of thumb developed when minimizing energy use was not a priority.
Achieving designs below 100 kWh/m2 (9 kWh/sf) requires re-thinking how buildings are designed–not just mechanical/electrical design, but architectural as well. Proper orientation, narrow floor plates, and optimal window-to-wall ratios (WWRs) are all equally important.
There are three examples of how elegantly simple design works in practice.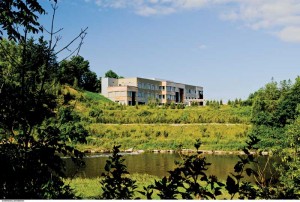 Throw out rules of thumb
One should throw out rules of thumb or strategies that exist because "we've been doing it like this for years." One of the biggest mindsets holding back sustainable design is the use of outdated engineering rules of thumb and common practices not reconsidered from an energy efficiency perspective. For example, many designs fill up a rainwater cistern (used to supply toilets or irrigation) with city water when empty. This requires the city water to be repressurized for use in the building, which uses energy. Most engineers do not even consider other options to maintain the pressurization and save energy.
On one of this author's projects, Waterloo Region Police Service Investigative Services Building, the team had the city water bypass the cistern altogether, joining the building plumbing system after the cistern system so the water maintains the correct pressure from the source to the building.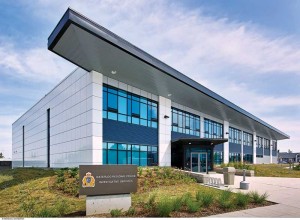 Eliminate equipment
One should remove as much equipment as possible. If something is plugged in, it will use energy. With this motto in mind, it is important to eliminate unnecessary pieces of mechanical equipment. For example, the headquarters of this author's firm, A Grander View, is built into a hill. The resulting slope creates drainage problems, with a typical solution being a sump pump to capture and release water. This type of thinking is so engrained, most design teams would install this pump without even considering options that do not require energy. The team decided to relandscape the site around the building to allow for gravity drainage to storm drains and eliminate the need for the pump.
Do not waste
The traditional approach to server rooms is to install a dedicated air-conditioner to deal with the incredible amount of heat generated by the electronic equipment. Not only is this an extra piece of equipment that serves no other purpose, but the heat energy generated by the equipment is also wasted.
At Northlands Parkway Collegiate in Winnipeg, Manitoba, the building's variable refrigerant flow heat pumps (integrated into the ground loop heat pump) will provide heating and cooling to the computer rooms and server room which have a different load pattern from the rest of the school. Most of the heat removed from these rooms will be used to heat domestic hot water.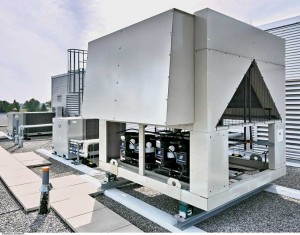 Another development at Northlands is to look to the kitchen for energy savings. Commercial kitchens are often overlooked as much of the load is considered 'unregulated' and is not considered for energy savings. However, the electrical demand in this kitchen exceeded that of the rest of the school. Therefore, the team selected:
a low-flow, variable-speed range hood ventilation system;
a dedicated high-efficiency tankless booster heater for the dishwasher;
thicker insulation panels for the walk-in coolers and freezers;
a water-cooled refrigeration plant connected to the ground heat exchanger;
higher efficiency defrost and control for refrigeration; and
an electronic ignition system for the gas cooking appliances.
Mountain Equipment Co-op
Retail, healthcare, and multi-unit residential buildings are among the highest energy users in the commercial/institutional building sector at 431 kWh/m2 (40 kWh/sf). It is harder to get these types of building to reduce their energy use more than offices, schools, and public assembly buildings. Thus, the energy use reduction target cited for the Green Buildings that Work database for retail is 50 per cent.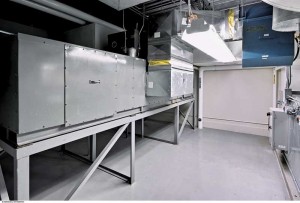 With an Energy Star score of 88, Mountain Equipment Co-op (MEC) in Burlington, Ont., is the first MEC store to receive LEED Canada certification. The 2500-m2 (26,910-sf) building, which houses retail, warehouse, and administrative space, is a model for sustainable retail. From environmentally appropriate materials to an unusual innovative cooling system, MEC Burlington sets the bar high.
The building's core is a one-of-a-kind mechanical system. The cooling system uses six ice thermal storage units—the first of its kind in Canada. To shift the peak cooling electrical load to when there is less demand for energy, the system makes ice at night then cools the building during the day by circulating liquid refrigerant between the ice tank outside and the fan coils at the store ceiling. When outdoor conditions permit, the occupants can naturally cool the building with operable windows and a ventilating clerestory.
Lighting is typically a major energy load for retail stores as products must be displayed effectively, and some lights are on for security purposes during off-hours. To minimize unnecessary lighting, MEC Burlington features bi-level lighting which allows for lights to be at half their maximum luminescence when an area is unoccupied and automatically increase to full levels when occupied. In the warehouse and washrooms, lights are off as a default and only turn on when the occupancy sensors detect movement. These measures meant the interior lighting design achieves 63 per cent energy cost savings over a conventional retail building.

Control the content you see on ConstructionCanada.net!
Learn More.