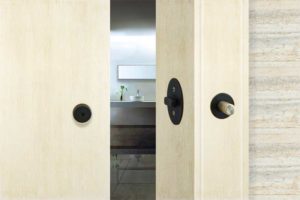 by Qianyan Cheng
Every now and then a design trend sweeps the industry, whether it is commercial-style appliances in the kitchen or a new paint colour like "greige." In the door hardware industry, a recent example is the barn door.
Barn doors are a specific type of sliding door option that traditionally slides back and forth on a track mounted on the outside of the wall. It can be mounted either on a track below or be suspended from a track above. This differs from the pocket door that requires a compartment within the adjacent wall it can disappear into when fully open.
Barn doors are beautiful. They combine old-world charm with spatial efficiency and lots of other advantages, such as easy installation and safety features. However, one area where they can fall short is privacy. This transcends residential, commercial, and hospitality applications. The author can attest to this personally. During a recent stay at a California resort, the author decided to soak in the bathroom's Jacuzzi tub. It was supremely relaxing—until her eight-year-old son decided to roll back the big barn door and destroy her moment of Zen. Fortunately, there are now ways to add locking functionality to barn doors.
A versatile choice
It is no surprise barn doors have become popular among designers, architects, and builders. They combine character and efficiency like no other option. They also save space. Much like pocket doors and sliders, barn doors make a good choice for enclosed spaces where in- or out-swing doors would be restricted by the floor plan. This is especially the case in hospitality settings and small family dwellings, where a swing door would often block another entrance or interfere with fixtures or furniture.
By saving space, they conserve pricey "real estate." In expensive metropolitan areas, hotels, and high-end rental units, every square centimeter counts. Making the space functional is key. Barn doors answer the call by eliminating the 0.9-m (3-ft) span required for a swing door (per the Canadian Standards Association (CSA) B651-12, Accessible Design for the Built Environment), and are even more valuable in barrier-free installations, where 1.5 m (5 ft) is required. Therefore, barn doors provide architects "free" floor space to give to their clients.
Interior designers favour barn doors, and with good reason. They can make themselves at home in a broad range of decorating styles, from traditional to contemporary. A nearly endless variety of textures and colours is available.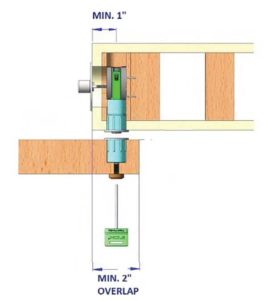 This type of door is also healthcare friendly. One may not think "barn door" in the context of hospitals, but they are suitable for private bathrooms for hospital patients. Given the wide doorway openings required for intravenous (IV) devices, bariatric patients, or patients needing extra assistance, barn doors are a potential solution. An alternative is a pocket door, though germs could hide in the pockets, compromising patient safety. By virtue of its simplicity and ease of cleaning of all surfaces, a barn door is a better choice.
Can they be locked?
Having worked in the industry for more than 20 years, the author knows, until recently, barn door locking options were not only limited, but esthetically undesirable. One option is to build out the jamb to allow for the installation of a strike for a standard pocket-door lock. Another is to install a shoot-bolt mounted on the door, extending to the top rail of the opening.
However, both of these options have drawbacks. The construction costs can be hefty, and there is a price to be paid in the loss of the door's esthetics. (One does not want a barn door to look like it is, well, in a barn.) More importantly, neither of the above options can include an emergency release function. That is a deal-breaker for many designers and specifiers; as a result, they are often dissatisfied when searching for privacy functionality in barn-door locks.

Control the content you see on ConstructionCanada.net!
Learn More.