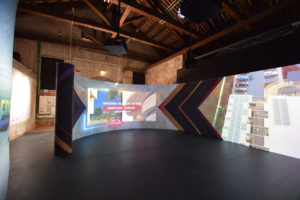 Unceded: Voices of the Land is the first ever Indigenous-led entry to be presented by Canada at the Venice Architecture Biennale. Commissioned by the Canada Council for the Arts, it is presented by internationally renowned architect Douglas Cardinal and curators Gerald McMaster and David Fortin.
"The Canada Council for the Arts is deeply committed to supporting the renewal of the relationship between Indigenous artists, and Indigenous and non-Indigenous audiences, and enhancing dialogues to promote a society that is more just, more inclusive, more innovative," said the council's CEO Arts Simon Brault.
The exhibition showcases the works of 18 Indigenous architects and designers from across Turtle Island (Canada and the United States) through an audio-visual experience tackling the difficult truths of colonialism while explaining and celebrating the strength of Indigenous resilience.
Curator Gerald McMaster explained "Unceded exemplifies a new critical dialogue emerging among Indigenous artists and architects such as the value of traditional knowledge in the face of hyper-capitalism, solidarity between Indigenous peoples, and a search for strategies of decolonization."
Unceded was selected through a national juried competition convened by the Canada Council for the Arts. It is on view to the public from May 26 to November 26.