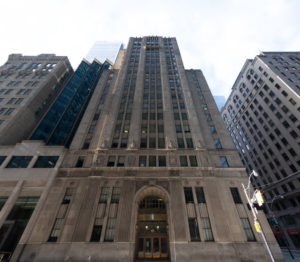 Award-winning consulting and design solutions firm B+H Architects (B+H) has signed a lease with Menkes Developments and TD Greystone Asset Management for 2138 m2 (23,008 sf) of office space at a heritage building in Toronto.
The building on 320 Bay Street was designed by prominent Canadian architect Henry Sproatt and originated as the Canada Permanent Trust Building.
The 27,871-m2 (300,000-sf) building is currently undergoing a major restoration, which will improve the quality and service of the space.
B+H will be providing design direction for key public spaces, preserving the building's historical architectural elements while balancing them with new, modern amenities for future tenants. The revitalization also includes an updated lobby façade entrance and electrical and mechanical upgrades.
"Playing a significant role in the preservation and transformation of this landmark example of heritage architecture located on 'centre ice' in Toronto's financial corridor is a great honour," said Patrick Fejer, senior design principal, B+H.