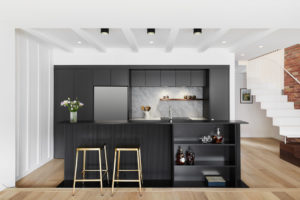 Montreal-based design firm Imagine has wrapped up a complete renovation of the 19th century townhouse Maison Merveilleuse. The project reformed the 139 m2 (1500 sf) building by adding new features while maintaining its historic character.
The project began with a new structural strategy and the strengthening of the original foundations of the townhouse, originally built in 1875. Imagine then turned its attention towards a completely new layout, adding new rooms and creating an open floorplan on the main level. The concept also includes a separation between the private spaces of the house and the professional spaces of the Imagine office, located at the front of the home.
The entrance, which includes a large, black storage area, features Italian floor tiles and green walls, with the latter establishing the first link to other parts of the home through its connection to an abundance of plants and a rear garden area. From the entrance hall, two doors lead to the private spaces of the home and to the offices of Imagine, a workplace with white surfaces and furniture.
The selection of materials, the lighting concept, and the choice of furniture and accessories was the result of research carried out by Imagine. A refined amount of textures with marble, white oak, and porcelain, is used.