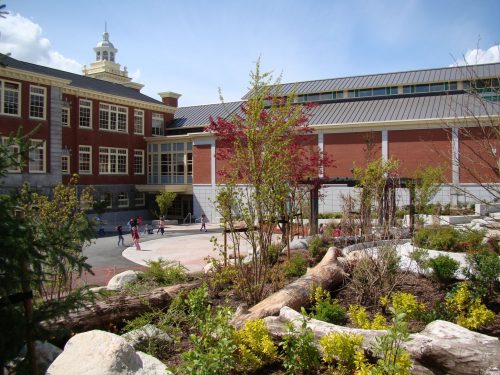 Queen Mary Elementary in North Vancouver recently became Leadership in Energy and Environmental Design (LEED) Gold-certified for its heritage restoration.
The school was recognized for its sustainability, including water and energy efficiency, use of green materials and resources, high level of indoor environmental quality, and inclusion of innovative design. Originally built in 1914, Queen Mary Elementary needed upgrades for both seismic and educational reasons due to its age.
In 2010, the North Vancouver School District (NVSD) started a project to upgrade the seismic structure and built an addition to accommodate needed learning areas. These upgrades were done while maintaining the heritage status of the building and meeting high environmental building standards. Heritage components included restoring the façades, maintaining the double entrances, upgrading the wooden roof and fan tower, and restoring heritage doors and windows. All these components uphold the guidelines for conserving heritage places in Canada.
The contemporary education requirements added to the school included reorganizing the central air system, creating an atrium space, and doing an extension to the building for a new gym, library, and administration space. The project also tackled sustainability by reusing and recycling materials from the demolition, installing an efficient mechanical system and exterior walls with high thermal performance, and integrating an educational program on the sustainable features of the building.
"The North Vancouver school board has a strong commitment to environmental sustainability," said John Lewis, NVSD superintendent. "This philosophy is echoed in our district motto as the 'natural place to learn' and permeates all of the work we do. Inspiring future success for every student includes a need to do what we can to ensure our communities and environments are healthy places where students can learn and grow."