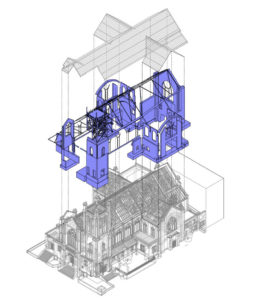 One of Vancouver's most prominent landmark churches and music venue will undergo a major seismic upgrade and heritage restoration.
Design practice Ryder Architecture has been retained for the St. Andrew's-Wesley United Church restoration project. Heatherbrae Construction is offering construction management services and RJC Engineers will provide seismic and building envelope engineering and act as prime consultant on this two-year project.
Designed and built between 1930 and 1933 by architects Twizell and Twizell, the church is an example of Gothic Revival architecture. Constructed from both local Nelson Island granite and Haddington Island stone, it is known for its glorious interior, including vaulted timber roof, French and Italian stained glass windows, and angel reliefs. The church functions as a major religious, heritage, and cultural focal point for downtown Vancouver.
"St Andrews is a special and historic place not only for the church congregation but also the city of Vancouver. The congregation is to be commended for pursuing this project to bring the church up to current seismic safety standards. In doing so the original architecture of Twizell and Twizell will be reinvigorated to provide a home to the congregation for the next 100 years," said Adam James, principal, Ryder Architecture.
The project will provide a seismic upgrade to the original concrete structure and reinstate the plaster interiors along with a new stone floor, pews, and upgraded building services. The heritage designated building exterior will receive a new copper roof and granite façades will be repointed and restrained. The building is set to reopen in the fall of 2020.