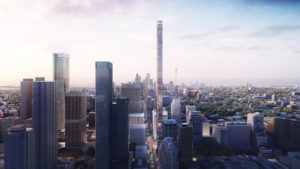 A proposed 87-storey mixed-use tower designed by Swiss-based architectural firm Herzog & de Meuron and Toronto-based Quadrangle, will become the tallest in Canada once complete.
"This is an iconic block in the neighbourhood and Toronto at large. We have an opportunity to deliver a project that sets a new benchmark for design and strives to give something back to the city," said Lesley Bamberger, owner of Dutch real estate company Kroonenberg Groep.
The skyscraper has a 3:1 ratio in the north-south orientation resulting in an elegant, well-proportioned tower volume. A linear core at the western façade is proposed, which maximizes the usable area of the floorplate and simultaneously provides privacy from any adjacent development to the west.
Providing diversity in the proposed program is an important component of the building's approach to sustainability and enhancing the vibrancy of the local community. The first 16 floors will replace the existing retail, office, and technical functions. A private amenities level will separate these functions from the condominium floors above, which are characterized by generous daylight through the floor-to-ceiling operable windows. Additionally, external shutters allow individual users to regulate the daylight and heat load into the apartment. A large restaurant, sky lounge, and rentable spaces occupy the highest three floors of the building with panoramic views over the city of Toronto.
The proposal is a layered expression of the vertical structural elements, interior glazing (thermal envelope), exterior timber roller shades, and an outer layer of transparent, open-jointed glass. The effect is a building which at times appears transparent and expressive – revealing the scale and activity within the building, and at other times, the reflective outer layer of glass gives the building an abstract quality, emphasizing its dramatic proportion.
At street level, residents enter a triple-height lobby and take one of four dedicated lifts to their condo level. Residences will range from one bedroom, to multi-level penthouses, totalling 332 condominium units spread over 64 floors.