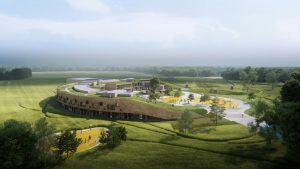 The ground-breaking ceremony for the New School in Sundby, located in Denmark's Lolland-Falster region, marked the launch of a historic project for Danish sustainable school construction. The school was designed by Scandinavian architecture firm Henning Larsen.
The primary school will be the first in Denmark to be awarded the Nordic Ecolabel, the region's official sustainability certification based on a range of parameters for energy consumption, indoor climate, chemical exposure, and sustainable material use.
"We have made a conscious, political choice to invest in sustainable construction, and our new school gets one of the finest quality stamps with the Nordic Ecolabel," said Simon Hansen, chairman of the Children, Family, and Education Committee of Guldborgsund Municipality.
The project set out with goals for not only sustainability parameters, but its potential for local learning and community engagement. The school is designed to meet the UN World Language School requirements for teaching facilities supporting the UN Sustainable Development goals through both physical design and teaching curriculum.
In addition to creating "robust" classroom spaces, particular attention was paid to spaces outside the traditional learning environment. Located on the edge of the city, the design takes advantage of the school's proximity to nature and aims to bring the outdoors—and an active, outdoor attitude, in. The school itself blends with the land, its sloped roof touching down to the ground level facilitate public access.
"We have designed a school that works in a field between learning and landscape, and where it is not just about the learning taking place in the building, but the whole route to and from the school and the way the school will connect to the local community," said Eva Ravnborg, partner at Henning Larsen.
The school is expected to open at the end of summer 2022 for approximately 580 students up to Grade 9.
"With construction now underway, the school will soon be available as an anchor point for the local community and a global example for progressive learning environments," said Morten Janik, chairman of the school board.
Henning Larsen is partners on the project with SKALA Architects, ETN Architects, MOE, and Autens on a team led by BO-HUS.