by Melissa Lindsley and Alana Hochstein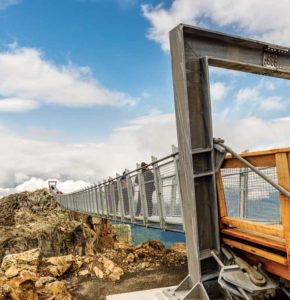 Most architects were drawn to the profession because of a desire to design impressive, unforgettable structures. In practice, they learn, not every project will be a masterpiece or even scratch the surface of their creativity. Often in these projects, they will still inject some unique elements, no matter how small, to put their signature on the design. However, when an architect is provided design freedom on a project, their creativity seems to have no limits. These are the projects that led them to the profession and where they leave their mark. It is where the bounds of a square box are too limiting. This is where architecturally exposed structural steel (AESS) shines brightest, allowing their imaginations to become reality.
AESS is designed to meet the primary needs of a building, canopy, or ancillary structure, while remaining exposed to view. It can be exposed on the interior or exterior of a building structure (this article will primarily focus on external elements). Exterior AESS is not only critical to the structural integrity of the building, but also provides a unique esthetic. When considering the importance of maintaining esthetics and integrity, architects should ensure the AESS is corrosion-resistant for as long as possible.
Hot-dip galvanizing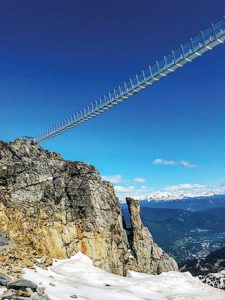 Hot-dip galvanizing (HDG) is the process of dipping fabricated steel into a bath of molten zinc. While immersed in the kettle (bath), the iron in the steel reacts with the zinc to form a durable, uniform, corrosion-resistant coating harder than the base steel. Hot-dip galvanized steel is primarily specified to provide long-lasting corrosion protection with little to no maintenance.
More and more, specifiers are looking to hot-dip galvanize exterior AESS to protect their designs for generations to enjoy. However, this practice can lead to friction between the architect, steel fabricator, and galvanizer, as there are some common misconceptions about the appearance of hot-dip galvanized steel. When many architects think about galvanized steel, they picture the shiny, smooth, and often spangled finish of galvanized sheet metal used in ductwork, hinges, and other similar applications, but most fabricators and galvanizers know batch (or after-fabrication) hot-dip galvanizing structural steel elements do not often yield this type of appearance.
Unlike many other coating systems (paint, powder coating, metal plating) or materials (stainless steel, weathering steel), the initial appearance of hot-dip galvanized steel is difficult to predict for a variety of reasons, including steel chemistry, cooling rate, and stress induced during steel processing and fabrication. Further, surface conditions normally acceptable under ASTM A123/A123M-17, Specification for Zinc (Hot-Dip Galvanized) Coatings on Iron and Steel Products, (i.e. runs, skimmings, roughness, excess zinc) may be unacceptable for showcase elements of AESS without additional detailing by the galvanizer and/or fabricator.
Despite these challenges, it is possible to achieve high-quality HDG coatings meeting the esthetic requirements of AESS if there is clear, direct communication between all parties (architect, fabricator, and galvanizer) throughout the design process. The following guidelines will explain how to apply the categorical approach of AESS and best design practices to minimize the cost premium and maximize appearance of hot-dip galvanized steel for AESS projects.

Control the content you see on ConstructionCanada.net!
Learn More.