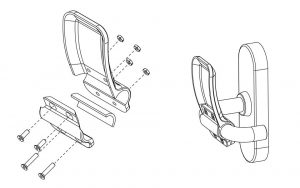 Belgium-based Materialise is sharing free design files of its 3D-printed hands-free door openers to help stop the spread of infections because door handles are among the most germ-infested objects in houses, hospitals, factories, and elderly homes.
The 3D print was designed with easy installation in mind. They do not require drilling holes or replacing the door's handle. One only needs to fasten two 3D-printed pieces together with screws over the existing handle.
Within 24 hours, the engineering team at Materialise was able to create, test, and validate their first hands-free door opener because of the flexibility and freedom of 3D design printing.
The 3D-printed handles help minimize risky contact by opening doors with arms, ideally covered by sleeves. A free design file can be downloaded from home or ordered through local 3D printing factories.
Click here for more information on available models, printing, and mounting instructions for the 3D-printed hands-free door opener.