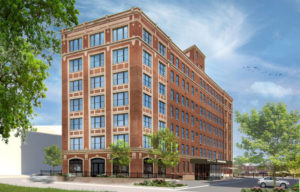 A historic landmark building in Hamilton, Westinghouse HQ, is set to become an energetic hub for commercial and cultural activities, and a blueprint for urban neighbourhood revival.
Once serving as the Canadian headquarters for an electrical manufacturing company, the building has become a legacy over its more than 100 years' life-span. It serves as an embodiment of its dynamic neighbourhood, wedged between the industrial waterfront and bustling downtown.
Converted into 7432 m2 (80,000 sf) of Class A commercial space, including a 929 m2 (10,000 sf) ground floor event space and auditorium, the seven-storey building will be ushered into the modern era with new finishes and systems, including photo-sensors, solar panels, and heating systems.
Originally built in 1917, countless architectural features have been discovered, including marble flooring, intricate crown moldings, mosaic tiles, and gigantic steel trusses—all of which are preserved and enhanced throughout the building.
With Equal Parts Hospitality as partners to manage the ground floor venue and auditorium, Westinghouse HQ will serve as a connective tissue that supports local arts, innovation, and economy.
Doubling as a community hub, the new space will be open to the public to book for events. There will also be picnic baskets available to enjoy at the adjacent Woodlands Park.
"We saw Westinghouse HQ as an exceptional heritage opportunity for events and conferences, as well as the neighbourhood," said Jason Cassis, CEO of Equal Parts Hospitality. "We are fitting up the space with a European boutique hotel lobby esthetic and aiming for a collision of old meets new—something really unique for the lower city."
Its first anchor tenant, mcCallumSather, who is also the lead architect, mechanical engineer, and heritage consultant firm for Westinghouse HQ, adapted the space for the 21st century by embracing its original architectural features and injecting a sleek, minimalist esthetic.