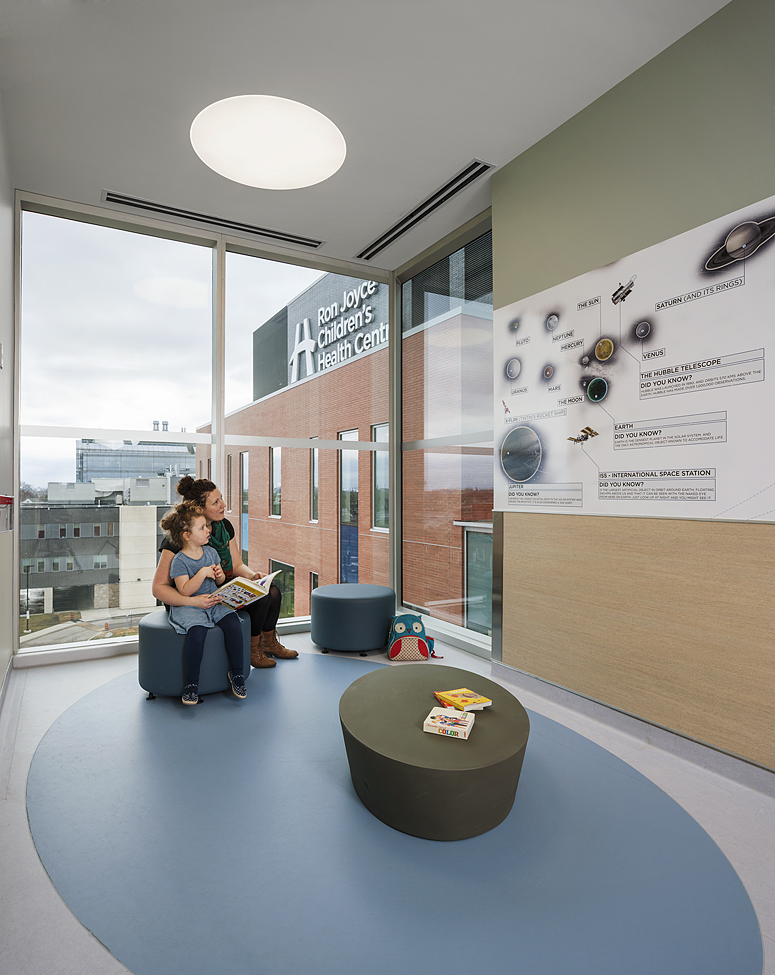 Earning a total of 64 points, Ontario's new Ron Joyce Children's Health Centre (RJCHC) at Hamilton Health Sciences has been certified Gold in the Leadership in Energy and Environmental Design (LEED) program. The project was completed on time and on budget by design-builder PCL Constructors, under the Government of Ontario's Alternative Finance and Procurement (AFP) model.
Of the construction material used in this project, 32 per cent incorporates recycled content, while 45 per cent was sourced or manufactured within 800 km (497 mi) of the facility (2400 km [1491 mi] if shipped by water). A total of 86 per cent of the waste generated by construction and demolition has also been diverted from landfills.
The facility's lighting contributes further to its sustainability, with individual controls for 90 per cent of building occupants resulting in 58 per cent lower energy use. Its natural lighting features (such as full-height windows and outdoor terraces) also enhance the facility's esthetics, helping it achieve the design goal of creating a welcoming space for visitors.
RJCHC also effectively manages indoor air quality (IAQ) through use of low-emitting materials and efficient heating and cooling methods. Its white roof membrane reflects light and heat, reducing the facility's cooling load, while its HVAC systems are free of chlorofluorocarbons (CFCs). Water use has been reduced by 36 per cent from the implementation of low-flow fixtures, and the building's proximity to public transit reduces reliance on cars.
"PCL is extremely proud of the collaborative team effort that has secured LEED Gold status to provide Hamilton Health Sciences with a facility that balances energy efficiency with occupant comfort, enabling the health system to provide care for children and their families in an environment that is as healthy as possible, for years to come," says Mike Wieninger, vice president and district manager for PCL Constructors Inc. (Toronto), the project's design-builder.