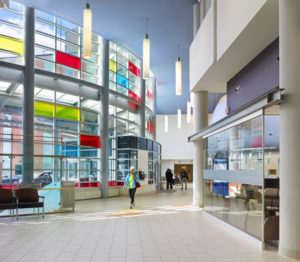 Earlier this year, the Ontario Association of Architects (OAA) invited Ontario MPPs to reflect on the province's unique architectural legacy and nominate their favourite building within their riding. A total of 40 submissions were received representing areas from Windsor and Timmins to Ottawa. Eight projects were then selected for this year's Queen's Park (QP) Picks exhibit, which highlights the diversity of architecture across the province.
"This year's selection of eight very different projects—from provincial landmarks to exciting new places for learning, living, and playing—show how architecture helps create a sense of place, while also celebrating the culture and community of where they are built," said Kathleen Kurtin, OAA president.
Hamilton is the best-represented city in this year's QP Picks with three buildings—the Juravinski Hospital and Cancer Centre, the Waterdown Public Library, and Westinghouse HQ.
Toronto was represented by two very different selections—York University's new Bergeron Centre for Engineering Excellence and Ontario Place.
In Guelph, the Metalworks—a 600-unit residential redevelopment located in one of the most significant historic sites in the city—has been chosen.
Another Queen's Park Pick is the new Aaniin Community Centre and Library in Markham, Ont. The final QP Pick is Ottawa's Corktown Footbridge.