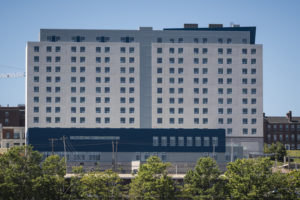 The Royal Canadian Navy's new Tribute Tower project at Canadian Forces Base (CFB) Stadacona in Halifax has received the Leadership in Energy and Environmental Design (LEED) Silver certification.
Tribute Tower combines a 12-storey accommodation tower with a three-level podium incorporating dining and messing facilities for junior ranks personnel. The tower has been designed and constructed in accordance with a sustainability requirement that reduces its environmental footprint throughout the design lifetime.
Designer of record SNC-Lavalin collaborated with the Protection Engineering Consultants of Texas to design the structure in accordance with the United States Unified Facility Criteria (UFC) 4-023-03, Design of Buildings to Resist Progressive Collapse. Tribute Tower is the first structure in Canada built to this standard.
Architecture and LEED consulting services were provided by A49 of Halifax.