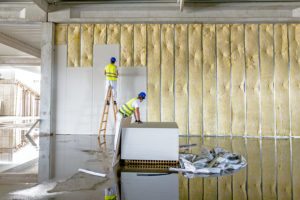 Earlier this summer, the Gypsum Association (GA) revised 11 technical documents pertaining to the application, finishing, handling, and storage of gypsum panel products. Since December 2016, more than half of GA's extensive catalogue of free guidance documents has been updated to reflect the most current recommendations by industry experts. The following were posted to the free download section of the GA bookstore:
GA 214 supplements GA 214-2015, Recommended Levels of Finish for Gypsum Board, Glass Mat and Fiber-Reinforced Gypsum Panels. The guide describes each level of finish and when and where they are appropriate. It aims to better align project specifications and jobsite practices.
GA 1000-2017 and GA 223-2017 are valuable reference tools. The former is essential to forensic consultants who seek to identify panels in the field, while the latter provides both the ASTM manufacturing standard and the appropriate installation standard for every gypsum panel product.
GA 221-2017 stresses the importance of having all HVAC equipment, tubs, toilets, and roofing in place before installation of wallboard. GA 253-2018 has been thoroughly reviewed to ensure this code-referenced document supplies appropriate guidance for installation of exterior gypsum sheathing, which is increasingly specified in both commercial and multifamily structures.
"The GA is confident our documents represent the best impartial technical advice and information the gypsum industry has to offer," says Stephen H. Meima, CEO of GA.
The association is also offering a course on "Benefits and Applications of Specialized Performance Gypsum Panels." This continuing education course addresses the attributes of specialized gypsum panels and how they can be used to improve the performance, efficiency, and resilience of multifamily dwellings as well as commercial structures. The course also discusses how architects and specifiers can benefit building owners and add value to a project by properly selecting and installing gypsum panels. For more information, click here.