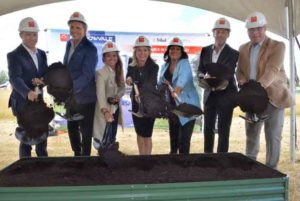 H&R Real Estate Investment Trust (H&R REIT), headquartered in Toronto, Ontario, and Tribal Partners, based in Vaughan, Ontario, have begun work on two industrial facilities spanning over 31,400 m2 (337,000 sf) at Mississauga's Meadowvale Commerce Park (MCP).
The facilities are positioned between two major transportation arteries—highways 401 and 407—and 18 km (11.2 miles) from the Toronto Pearson International Airport. They will feature 12.2-m (40-ft) clear heights; 12.2×16.8-m (40×55-ft) bay sizes; 18.3×16.8-m (60×55-ft) marshalling bays; and two drive-in doors to accommodate a range of industrial uses. Building A will be 17,400 m2 (187,290 sf), with 37 truck-level docking doors and 142 parking spaces. Building B will be 14,000 m2 (149,510 sf) —with 24 truck-level docking doors and 115 parking spaces.
Adjacent to many top-tier companies and located near 46 restaurants, three banks, four hotels, and six transit routes, MCP will contribute to the continuous development of Mississauga's manufacturing hub.
"I'm truly excited to welcome the Meadowvale Commerce Park to our vibrant and growing city," said Nina Tangri, MPP for Mississauga-Streetsville. "Mississauga has a growing community and is recognized for having diverse groups of talented and educated minds. This new state-of-the-art facility will contribute to Mississauga's economic development and help create well-paying jobs for the residents in our community."