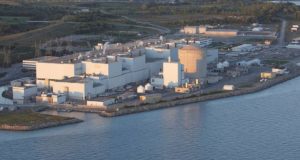 In December 2022, Ontario Power Generation (OPG) broke ground at Darlington nuclear site, on what is being touted as Canada's first grid-scale small modular reactor (SMR) in decades, to ensure enhanced and cleaner electricity supply.
A $32 million contract was awarded last year to Niagara-based E.S. Fox, fabricator and constructor, to deliver early site preparation work, including water supply, electrical power, information technology and road services, paving the way for the SMR to be constructed by 2028.
The Darlington SMR will be the first new reactor in the province since 1993. It will be located at the site of the 3,500-megawatt Darlington Nuclear Generating Station in Clarington, Ont. This project alone will deliver 300 MW of electricity, which is enough to power 300,000 homes. Canada's first grid-scale SMR is part of the Ontario government's larger plan to meet emerging energy needs and ensure a reliable, affordable, and clean electricity supply including:
Procuring 4000 MW of new electricity generation and storage resources, which includes the largest procurement of clean energy storage in Canada's history.
Rolling out $342 million in new and enhanced energy efficiency programs while helping families and businesses reduce their electricity use so they can save money on their energy bills.
Supporting OPG's continued safe operation of the Pickering Nuclear Generating Station and tasking OPG to update their refurbishment feasibility assessment for the station.
Directing the Independent Electricity System Operator (IESO) to recontract clean generation at existing forest biomass and hydroelectric facilities.
Conducting a successful medium-term request for proposals to recontract existing electricity generation resources at a 30 per cent discount, keeping costs down for ratepayers.
Currently, Ontario has 15 nuclear reactors in operation, and three reactors under refurbishment at three sites, providing over 50 per cent of the province's clean electricity.
"This project leverages OPG's decades of experience in providing reliable, safe, and affordable electricity, as well as Ontario's strong nuclear supply chain to develop the next generation of nuclear power. The electricity produced by the SMR at Darlington will help ensure we meet Ontario's growing energy needs, as electrification drives demand," says Ken Hartwick, OPG president and CEO.