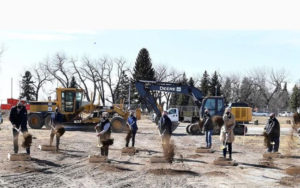 Construction has officially commenced on the 24,898-m2 (268,000-sf) Agri-food Hub and Trade Centre, the largest development project in the history of Lethbridge & District Exhibition.
The $70.5-million project is being managed by Ward Bros. Construction Ltd. of Lethbridge, Alta. The facility is scheduled to open in early 2023.
"With additional capacity for events and opportunities for local producers, businesses, and students, the hub is an exciting example of the bold, ambitious, and forward-thinking projects powered by Alberta's Recovery Plan," said Premier Jason Kenney. "This development will help position Alberta for prosperity by creating jobs, attracting investment, and showcasing our province's growing value-added food sector."
The new facility will double current hosting capacity to accommodate more and larger national and international events for up to 7000 people. Once operational, the Agri-food Hub and Trade Centre is expected to contribute more than $90 million every year to the regional economy.
"The Agri-food Hub and Trade Centre is going to ignite economic growth, not just for Lethbridge and the southern Alberta economy, but also for Canada's agricultural industry," said Lethbridge mayor Chris Spearman. "It will attract more traffic both from within the community, but more importantly from throughout the world, to come to Lethbridge. This will generate more direct flights to our city, increase demand for hotels, and generate new investment in our community."
The Agri-food Hub and Trade Centre is funded by the Government of Alberta through the province's Recovery Plan, the City of Lethbridge, which will maintain ownership of the land, and a 30-year loan secured against the future operations of the facility.
"The new Agri-food Hub and Trade Centre is becoming a reality because of the unprecedented shared vision and collaboration of the Government of Alberta, the City of Lethbridge, Lethbridge & District Exhibition and our partners, especially those in our agriculture community," said Mike Warkentin, chief operating officer of Lethbridge & District Exhibition. "Already, this project is becoming a center of gravity for attracting jobs and people to Lethbridge."