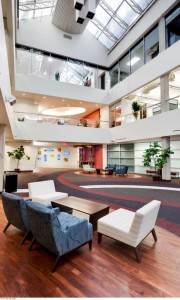 Ad Valorem Place, the new home of the City of Calgary's Assessment business unit is the municipality's first Leadership in Energy and Environmental Design (LEED) certification under the Commercial Interiors (CI) rating system.
Caitlin Carpenter, from Enermodal, the LEED consultant and commissioning agent for the project, told Construction Canada Online the reason the project went through the CI rating system instead of the New Construction (NC) program was because the building's structure (including walls) were staying in place.
"It was really a tenant fit-up renovation, which is ideal for LEED-CI. The program is for tenants who are not renovating mechanical systems, adding windows, etc," she explained.
Certified at the Silver level, some of the new green features of the three-storey building include:
• an energy-efficient lighting retrofit (halogen and incandescent bulbs were replaced with high-efficiency alternatives and overlit areas of the building were re-lamped to reduce the wattage of each fixture);
• occupancy sensors added throughout the building;
• demand-controlled ventilation in meeting rooms; and
• a new boiler that uses 15 per cent less energy than the previous one.
The lighting type changes are expected to be paid back in less than a year. The lighting controls (i.e. occupancy sensors) and boiler were more expensive, but result in significant utility savings. The four changes mentioned above combine for an estimated annual utility savings of $30,500. The projected payback is 5.3 years based on the cost of the green renovations or materials and the associated utility cost savings.
In related news, the University of Calgary has become the first school in Alberta (and second in Canada) to draft a long-term emissions reduction plan by planning to decrease its greenhouse gas (GHG) by 45 per cent over the next five years and 80 per cent by 2050.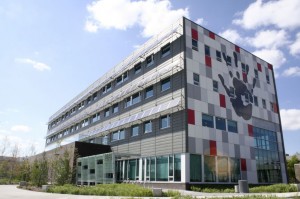 The university's president, Dr. Elizabeth Cannon, said the school is committed to achieving significant emissions reductions in operations and becoming a leader in showcasing the benefits of a low-carbon economy.
"The University of Calgary is uniquely positioned to act on its Climate Action Plan," she said. "The energy and environment field is one of our strategic research priorities and we strive to incorporate sustainability into all aspects of our institution."
Retrofits to existing buildings, totalling $15 million, are expected to save $3 million in annual utility bill savings, including street light replacement with light-emitting diodes (LEDs). The university also has an annual Power Off Challenge, where buildings across campus compete for three weeks to reduce electrical consumption by shutting off lights, and turning off desktop and lab equipment. Also, more than 200,000 kW hours of electricity were produced by photovoltaic (PV) array at the Child Development Centre since it opened five years ago. This provides enough electricity to power about 25 Calgary homes and is one of the largest building-based PV installations in Canada.
For more information, visit www.ucalgary.ca/sustainability/climate_action.