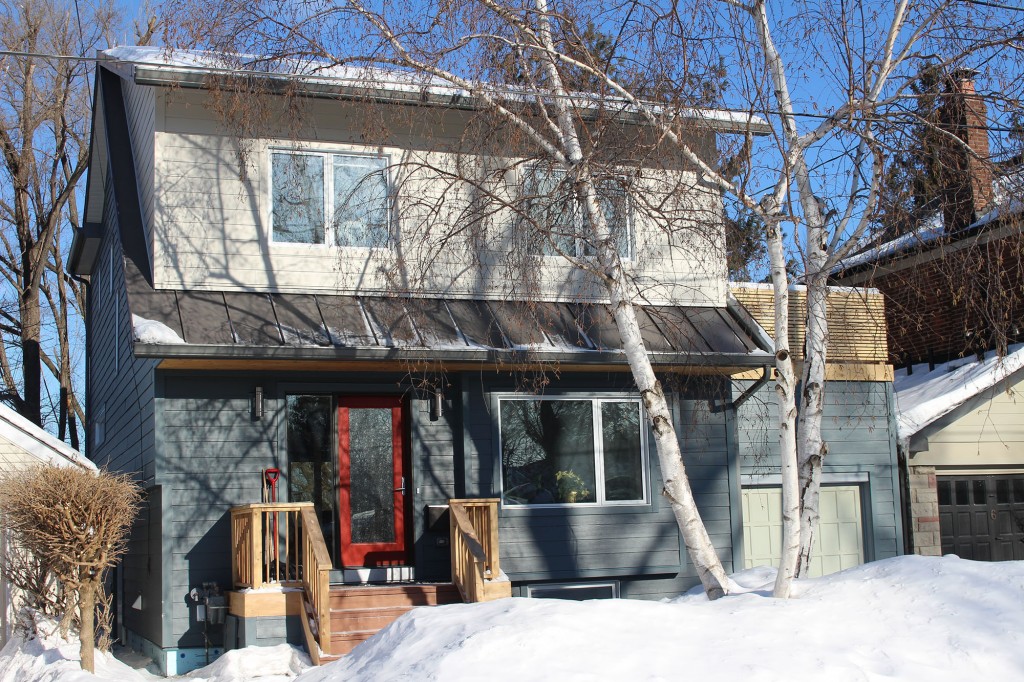 Renovations firm Greening Homes announced its Beechwood project in Toronto won the prestigious Canadian Green Building Award in the residential category.
During the Canada Green Building Council's (CaGBC's) national conference this month, Greening Homes was recognized for transforming an aging bungalow on Beechwood Crescent into one of the most highly efficient residential buildings in the country. The firm's president Christopher Phillips, along with construction manager Steven Gray accepted the award.
The renovated two-storey house surpassed the Passive House airtightness requirements for new construction with 0.44 air changes per hour (ACH). The lower the number of air changes, the less energy is required to keep air at a comfortable temperature. The Passive House standard for new construction is 0.6 ACH, but for renovations the standard is 1 ACH.
"We went from a house with no insulation or ventilation to one that is evenly heated from basement to second floor with fresh, healthy air," said Andrew Hellebust, Beechwood's homeowner. "The house is now fossil-fuel-free with an electric heat pump drawing heat from the soil right beneath the basement floor. We did not even have to turn on the backup throughout this unusually cold and long winter. Our electrical bills are less money now than our old heating bills, even with a larger house."
The house underwent an integrated design process involving an architect, sustainability consultant, third-party testers, mechanical engineer, builder, and others from the high-performance building industry. The home's geometry, glazing, insulation, mechanical system, air barrier detailing and constructability were optimized for energy efficiency, high indoor air quality (IAQ) and low water consumption.
Other retrofit features include:
Forest Stewardship Council (FSC) framing lumber;
triple-paned, argon-filled fibreglass windows;
recycled-denim batt sound insulation;
hydronic in-ceiling heating and cooling;
drain water heat recovery;
low flow fixtures;
light-emitting diode (LED) lighting;
sub-slab geothermal loop;
recyclable cool metal roof; and
high-recycled-content, locally produced drywall.
The awards recognize excellence in either residential or non-residential buildings of all types in new construction, renovation, and interior design categories.