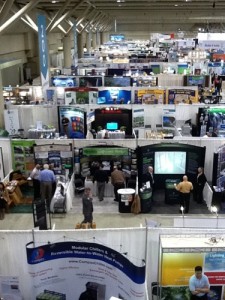 Earlier this month, Greenbuild brought together more than 23,000 design/construction professionals, 1700 exhibitors, and industry experts from around the world to discuss the present and future of sustainable buildings.
From October 4 to 7, U.S. Green Building Council (USGBC) held its flagship event at the Metro Toronto Convention Centre (MTCC)—the first time the international building conference/expo has taken place outside the United States. The gathering was so large, not only did it overtake both the north and south halls of the sizable facility, but it also spread to the Air Canada Centre for a kickoff concert and city streets for myriad building tours.
At the opening session, before a rock performance by Maroon 5, speakers included New York Times' Thomas Friedman, ABC News' Cokie Roberts, Harvard Medical School's Paul Farmer, and former Canadian prime minister, Kim Campbell. Founder of the charity OneXOne, Joey Berdugo Adler also spoke about relief and rebuilding efforts in Haiti.
Fanfare and global perspective aside, the 10th annual Greenbuild brought forth the usual new product displays and professional development, but with an occasional north-of-the-border bent. About 20 per cent of the show floor were Canadian companies and, among the 100 or so educational sessions (which included both large lecture-hall assemblies and more intimate in-the-round discussions), an entire track was dedicated to Canadian experts.
At the show, McGraw-Hill Construction also released results of its industry survey. Among the findings:
• 35 per cent of design/construction professionals report having 'green' jobs—that is, working with green projects or systems at least 50 per cent of the time;
• 45 per cent of all design and construction jobs are expected to be green by 2014;
• trades (e.g. carpenters, HVAC/boilermakers, electricians, concrete/cement masons, and plumbers) are expected to see the greatest growth in green jobs—15 per cent today, but 25 per cent in three years;
• green jobs yield advantages such as more opportunity (42 per cent) and better career advancement (41 per cent); and
• 71 per cent of hiring decision-makers say being 'green-certified' increases competiveness.
This growth will no doubt continue to be reflected at next year's show in San Francisco.