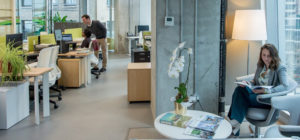 The Canada Green Building Council (CaGBC) has released "Ready, set, grow: How the green building industry can re-ignite Canada's economy" to offer recommendations for Canada's post-COVID-19 economic recovery.
CaGBC provided their industry perspective to key federal ministers. The document presents guidance on how strategic investment in green building could play a significant role in re-igniting Canada's economy while also helping to meet climate goals. To help advance both the goals of climate action and strong economic recovery, CaGBC recommends the federal government prioritize investments in buildings—both public and private.
"CaGBC's advocacy team takes a measured, data-based approach to help shape the policies and programs that promote the adoption of, and investment in, green building," CaGBC said in a press release. "As the Canadian government begins to plan its approach to the post-COVID-19 economic recovery, CaGBC has been working hard to communicate the opportunity green building presents."
The recommendations target three key areas of investment: Workplace training and skills development, removing barriers to, and incenting deep energy retrofits, and shifting the industry to zero carbon building.
"We believe this health crisis has precipitated what could be the tipping point we need to transition Canada toward a sustainable and low-carbon economy," CaGBC said.