Grande Prairie Regional Hospital wins health care engineering award
by arslan_ahmed | November 2, 2022 11:03 am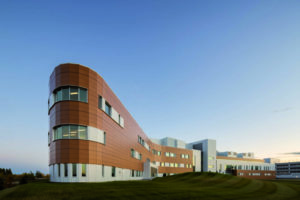 Architectural firm DIALOG's project Grande Prairie Regional Hospital got a health care engineering award for its occupant-focused design, utilizing open and inviting spaces, with deep daylight penetration and biophilic focus.
At a joint national conference, the International Federation of Healthcare Engineering (IFHE) and the Canadian Healthcare Engineering Society (CHES) presented the 2022 International Building Award to DIALOG and Alberta Health Services. The award recognizes the importance of design in health care facilities, focusing on the holistic experience of not only patients and residents, but also their families and visitors, and the staff.
Located in the beautiful green plains of Grande Prairie, Alberta, the 64,000-m2 (688,890-sf) hospital's curvilinear form runs parallel to the adjacent Bear Creek. Taking inspiration from the verdant 12.2 ha (30-acre) site, the hospital's plan lays out wide in-patient units around two internal courtyards, creating a space protected from the wind yet offering substantial views of the outside.
Natural light illuminates the care and treatment rooms. Extensive use of natural materials such as wood extends the connections to the outside world.
"It becomes a destination," says Adrian Lao, DIALOG Partner. "Even when you're sick and unable to go outside, you can be part of the community; you can be part of the beautiful surrounding. You don't feel as though you're losing that connection," he continues.
Endnotes:
[Image]: https://www.constructioncanada.net/wp-content/uploads/2022/11/AA_GrandPrairieHospital_1.jpg
[Image]: https://www.constructioncanada.net/wp-content/uploads/2022/11/AA_GrandPrairieHospital_2.jpg
Source URL: https://www.constructioncanada.net/grande-prairie-regional-hospital-stands-out-for-exemplary-healthcare-engineering/
---