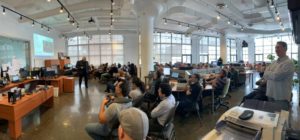 Graitec Inc., the Canadian subsidiary of international group Graitec, has further deepened its commitment to Montréal by creating 40 jobs over the next year to meet growing demand from North American clients.
This investment is particularly notable for the Montréal subsidiary as the expansion will make it the group's second largest office among locations in 13 countries.
The Montréal team's first few hires will support stakeholders in Québec's construction sector with their digital transformation, both at the office and work site. The company offers consulting services, specialized techniques, and training so clients can become fully self-sufficient in using and managing Building Information Modelling (BIM) software and technologies.
This software portfolio allows for detailed 3D project design, which simplifies information exchange and collaboration between various professionals and workers. BIM software has the potential to considerably speed up construction projects and reduce associated costs.
"Considering the global health crisis, technology and being proficient in technology have become much more important. Our software can optimize the quantity of resources used for a project. This is a sizeable advantage considering the higher costs of construction materials, such as lumber," said Hugo Michaud, managing director of Graitec. "We are very proud of our team's work over the past year and the success we had with clients who trusted our software and services."
Since 2001, the Montréal team has more than tripled in size, from 30 employees to 100, and it continues to grow despite the pandemic. By 2023, the company expects to double the size of its technical team, which includes BIM consultants, application specialists, and programmers to meet the local market needs and expand its operations across Canada and the U.S.