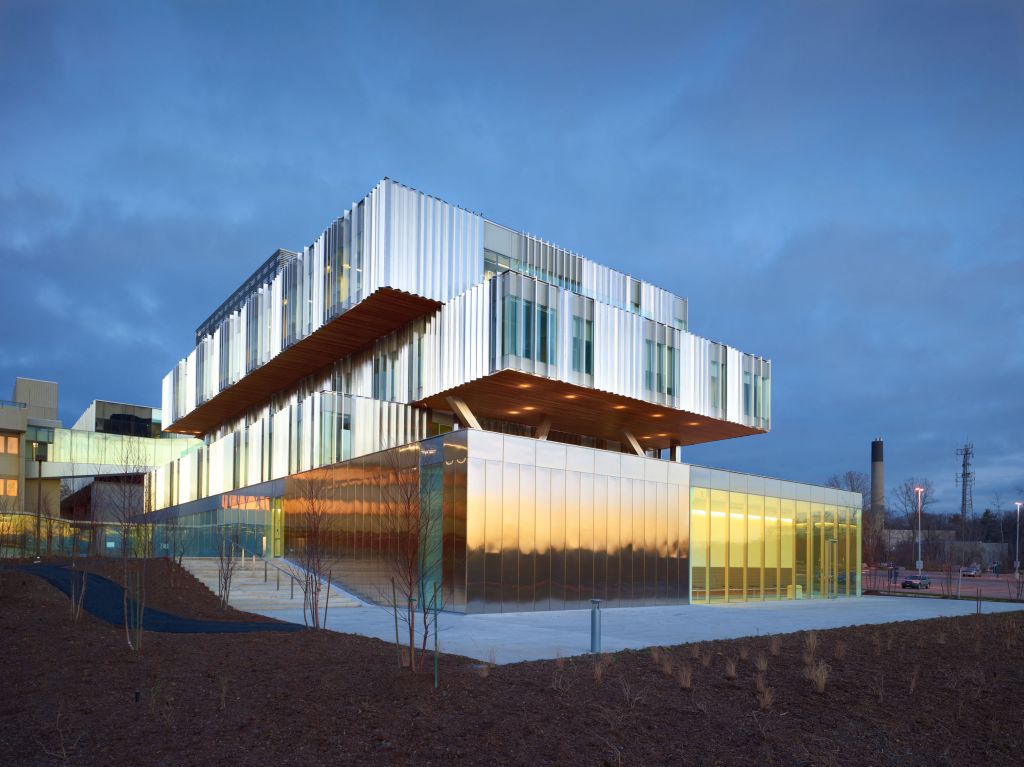 At a ceremony in Ottawa on February 1, Canada's Governor General, David Johnston, honoured recently built projects by the country's top architects.
The Governor General's Medals in Architecture program is administered by the Royal Architectural Institute of Canada (RAIC) and Canada Council for the Arts every two years. Its goal is to increase the exposure of the importance of architecture to Canadian culture.
The Canada Council for the Arts selects and manages a peer assessment jury to choose winners. Up to 12 projects are selected to receive the medals.
Kongats Architects was honoured for its Terrence Donnelly Health Sciences Complex at the University of Toronto Mississauga campus.
"The Governor General's Medals in Architecture are significant because it is a national program recognizing the importance of Canada's built environment," the firm's Alar Kongats explained to Construction Canada Online.
The public facility features glass and metal cladding, and sustainable elements such as vegetated roofs, heat-retaining materials, and interior energy sensors.
The other projects honoured this year were:
5468796 Architecture Inc. (Bloc_10, Winnipeg);
MacKay-Lyons Sweetapple Architects (Cliff House, Halifax);
mcfarlane green biggar Architecture + Design Inc. (College of New Caledonia–Technical Trades Centre, Quesnel, B.C.);
Maki and Associates and Moriyama & Teshima Architects (Delegation of the Ismaili Imamat: Architecture of Peace and Plurality, Ottawa);
Shim-Sutcliffe Architects Inc. (The Integral House, Toronto);
Patkau Architects Inc. (Linear House, Salt Spring Island, B.C.);
Architectes de l'urgence du Canada (Mission Kitcisakik, Québec);
RDH Architects Inc. (The Mississauga Public Library Project, Mississauga, Ont.);
RDH Architects Inc. (Newmarket Operations Centre, Newmarket, Ont.);
Daoust Lestage Inc. architecture design urbain (Quartier des spectacles/Place des festivals + vitrines habitées, Montréal); and
Kuwabara Payne McKenna Blumberg (Vaughan City Hall, Vaughan, Ont.).
For more on the winners, visit RAIC's website.