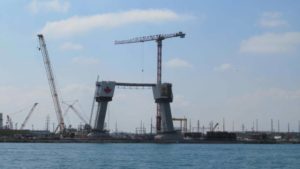 Gordie Howe International Bridge, connecting Windsor and Detroit on the US-Canada border, is facing delays projecting its completion in April 2025, which could result in monetary penalties for the contractor, calculated against the number of days elapsed from the originally scheduled 2024-year end completion.
The analysis for delayed completion date was put forth last year by S&P Global, which stated the U.S. side to be 147 days behind schedule, and the Canadian side to be 136 days so. When the analysis was presented last year, the contractor Bridging North America (BNA)—an equal partnership between global companies including Fluor, Aecon Group, and Dragados Canada—had requested cost compensation and a relief from the current project schedule.
Windsor-Detroit Bridge Authority (WBDA), the Canadian federal Crown corporation responsible for overseeing the construction of the bridge on both sides of the border has not yet opened up the contract for redrafting.
According to Windsor Star, Heather Grondin, the bridge authority's vice-president of corporate affairs and external relations said: "The contractor is obligated to meet the contract date specified in the project agreement and make adjustments to their construction approach to manage any delays they encounter."
WBDA maintained the contractor agreed to a 2024-end completion, which reflected significant leeway for any delays.
Grondin also added, "With the COVID-19 pandemic and related safety precautions now at a steady state, we are actively assessing the potential impacts of the pandemic on the project schedule."
WBDA and the Canadian government have been hesitant not to open the agreement for reconstituting due to concerns for further delays resulting from a host of potential new issues.
According to CBC, Jim Lyons, executive director of the Windsor Construction Association, representing Gordie Howe International Bridge contractors: "Since things have opened up, there's just so much volume out there we're trying to catch up to, as are all the material suppliers, so it's been really challenging to get all the materials in a timely manner to run any job, let alone that big bridge job." He added that supplies of steel and concrete are causing the biggest delays.
Pandemic also affected availability of workers to be employed at the construction site. He stated it remains to be seen if the government will impose penalties on the contractor for delays beyond the scheduled completion. He proposed that it was "uncertain" given that the causes for delays were beyond the contractor's control.
The project includes construction of a six-lane cable-stayed bridge, inspection plazas across the two sides of the border, and a new three-kilometre highway connector in Detroit to the I-75 highway. As of now, construction on the Howe bridge has both the Canadian and U.S. towers reaching approximately two-thirds of their full height. Ramps connecting to the towers and leading back to the plazas on each side of the border are also now visible.