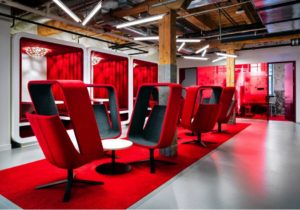 Google has demonstrated its commitment to health in the work environment with construction of a certified sustainable building. The company has earned Silver under the Leadership in Energy and Environmental Design (LEED) program's Interior Design + Construction (ID+C) category for Phase 1 of construction on its Kitchener, Ont., offices. The 9290-m2 (100,000-sf) office was one of Google's first LEED v4 projects.
"With this certification, Google joins an elite group of owners in Canada who have demonstrated leadership by committing to LEED v4—one of the world's most widely accepted, advanced, and effective building rating systems," said Thomas Mueller, Canada Green Building Council's (CaGBC's) president and CEO. "We are very pleased to see a global innovator such as Google putting words into action. This project demonstrates how green buildings transform traditional work environments, in a way that reduces carbon impact and water usage and improves employee health and wellness."
One of the simplest ways the office contributes to such employee health is through its location—set in a historic downtown building, it provides easy access to both public transit and bicycle paths. Employees' wellness is also considered within the building, with the company offering programs on green cleaning, health, and nutrition while also providing an onsite gym facility and climbing wall.
Further, the design prioritizes ventilation from outside to enhance indoor air quality (IAQ). Ultimately, it exceeds American Society of Heating, Refrigerating, and Air-conditioning Engineers (ASHRAE) 62.1, Ventilation for Acceptable Indoor Air Quality, by 30 per cent.
Material selection was also carefully considered in the pursuit of employee health. In an effort to minimize toxicants, 20 of the products selected possessed Health Product Declarations (HPDs), and another 20 had Environmental Product Declarations (EPDs).
Also critical to any sustainability effort, of course, is efficient use of resources. The Google office features water-efficient fixtures and reduced flush volumes, saving an estimated 500,000 L (132,086 gal) per year, as well as sub-meters used to track energy use and develop strategies for future optimization.
The project team included LEED consultant WSP Canada, project manager Cushman & Wakefield, and construction manager S.G. Cunningham. For more information on the project, including other members of the design and consulting team, visit CaGBC's site.
"The pursuit of LEED v4 pushed the project team to create a better space, and the experience has honed everyone's ability to solve problems and adapt," said Ben Campbell, WSP service area manager of sustainability.
Google hopes to target LEED v4 again on future projects, including Phase 2 of the Kitchener office's construction.