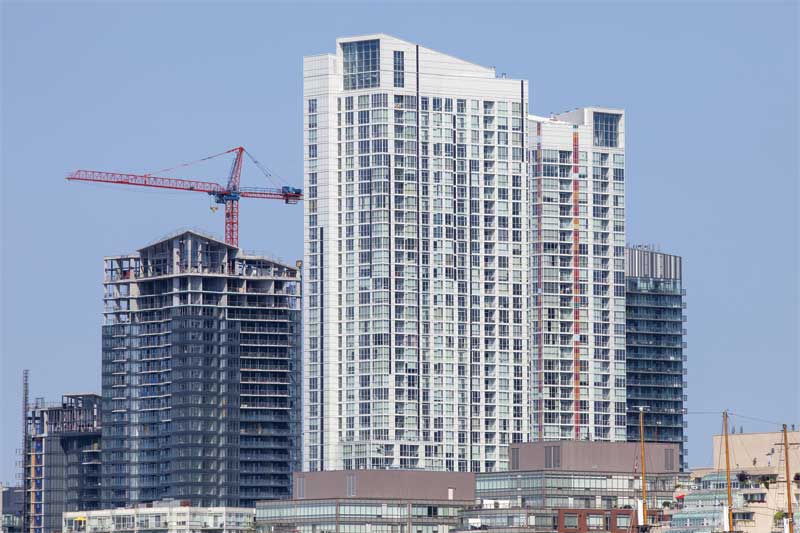 By Nick Walters, M.A.Sc., P.Eng., and Brad Pridham, PhD, P.Eng.
For a generation of Canadians, a detached house on a private lot was the standard first home. Today, with property at a premium, sprawling suburban lawns and quiet family homes are being traded for condominium towers by first-time home-buying millennials and downsizing baby boomers. While the setting for these households has changed, the desire for a quiet, private space to come home to has not. Condominium owners want the feeling of privacy and seclusion, but with all the benefits of luxurious amenities, proximity to retail spaces, and city life outside the door.
To meet the standards of condominium buyers, developers, contractors, and residential designers are increasing their focus on privacy and noise control. Marketing of 'premium acoustic performance' is growing in popularity in the condo market with the increased densification of urban centres. In some jurisdictions, minimum levels of sound isolation performance must be achieved for compliance with new homeowner warranty programs. The evolution of timber construction also introduces many challenges for designers and contractors from an acoustics perspective.
This article presents some practical considerations of acoustical design and construction, highlighting several key issues and approaches to successful implementation of noise control measures.
Acoustic design requirements
Building code requirements for acoustic performance in condominium buildings are currently limited in scope, and often do not address key issues. For example, design requirements specified in the National Building Code of Canada (NBC) are limited to sound isolation only. Minimum sound transmission class (STC) ratings are specified for demising walls between suites, corridors, common areas, and garbage chutes.
The 2015 edition of NBC proposes changing the sound isolation rating between residential suites from a minimum STC 50 for the wall or floor/ceiling assembly to a minimum apparent sound transmission class (ASTC) 47 value.  (For more information, read "A New Approach to Building Acoustics Regulation in Canada" by D. Quirt and B. Zeitler, published in a 2014 edition of the Canadian Acoustics journal.) This change from a design-based criteria to performance-based places more emphasis on the proof-of-performance testing by the acoustical consultant. The three-point difference between laboratory and apparent performance is consistent with measurement data and is indicative of good construction practices. It is anticipated this requirement will be adopted across provincial building codes. It has already been applied as the minimum acceptable field performance criteria by many acoustical consultants.
Notably absent from NBC are performance criteria concerning impact and background noise. Both noise sources can often have significant effects on perceived acoustical often performance, even if code requirements for sound isolation are satisfied.
In Ontario, acoustical requirements for condos are addressed in the Ontario New Home Warranties Plan Act. The process requires new condominium projects be registered with the Tarion Warranty Corporation under the Builder Bulletin 19 (B19) program.  (The B19 program is intended to ensure building design and construction meet required standards to protect the buyer and Tarion as the warranty holder.) Apart from the legal requirements of meeting the 2012 Ontario Building Code (OBC), Tarion B19 demands design and construction meet good architectural and engineering practices so as to address risk of complaints related to privacy and noise disturbance.
The B19 program in Ontario expands the acoustical design requirements of OBC through the newly updated Risk Area 11–Acoustics. (Visit www.tarion.com/sites/default/files/2017-08/Builder-Bulletin-19R-D5-Dec-16-2016.pdf to get more information on the program.) The B19 program now includes considerations for sound transmission between suites and other common areas, mechanical sound and vibration transmission, and electrical components such as generators and transformer noise, which can affect other units in the same building, or offsite receptors/residences. An issue with the B19 program is risk areas are identified without associated criteria or constraints for their evaluation. The crucial responsibility of establishing criteria, defining and meeting best practices, and implementing appropriate design solutions rests with the acoustical specialist.

Control the content you see on ConstructionCanada.net!
Learn More.