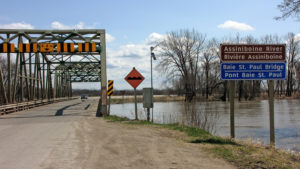 Last month, Manitoba's Infrastructure Minister Ron Schuler announced the province will add vital information to its flood-mapping inventory with federal government support.
The province will get $794,520 in federal funding—spread across three years—under the National Disaster Mitigation Program. This will be used to produce flood-risk maps for three Manitoba watersheds—lower Assiniboine River (from Portage la Prairie to the west Perimeter Highway), the Whitemud River, and the Souris River.
Manitoba will use light detection and ranging (LiDAR) remote sensing to produce these new maps. LiDAR uses laser technology to collect accurate, continuous elevation data—also known as topographic data—over relatively large areas.
Manitoba has approximately 40,500 km2 (15,637 sq mi) of high-altitude aerial LiDAR within its elevation library. An additional 29,185 km2 (11,268 sq mi) is being collected and will be added to the library next year. This collectively represents 67 per cent of southern Manitoba.
"Identifying the height and extent of a potential flood event is critical to support informed decisions and investments to reduce the impacts of flooding on communities. The funding will help expand the mapping of flood-prone areas of the province to better forecast and prepare for what nature sends our way," said Schuler.