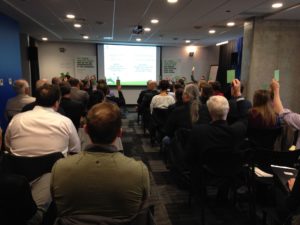 The Forest Stewardship Council (FSC) Canada held its annual general meeting in Ottawa early last month. The meeting featured FSC's annual report, delivered by outgoing chair Chris McDonnell.
According to this report, FSC-certified forests in Canada grew to a total of 54 million ha (133 million acres) this year, an increase of 3 million ha (7.4 million acres). To continue enacting such positive change, FSC states it will maintain a clear focus on expansion and collaboration.
This will begin with the release of an updated standard for well-managed forestry—one which considers international factors, emphasizes Canadian concerns, and recognizes the role well-managed forests play in combatting climate change.
"FSC Canada is well-positioned to expand its impact on the achievement of environmentally appropriate, socially beneficial, and economically viable management of Canada's forests," says François Dufresne, president of FSC Canada. "Our strategic plan will focus on continuing to build FSC as a catalyst for change in the world of responsible forest management while delivering value to our members, reinforcing their export drive worldwide and helping to secure local employment."
FSC will continue to promote the right to free, prior, and informed consent (FPIC) and, specifically, the need to obtain it before conducting forestry operations on the land of indigenous peoples. It will also encourage protection of endangered species such as woodland caribou, integration of the concepts of 'intact forest' and 'indigenous cultural landscape,' and positive worker relationships.
To ensure the accomplishment of these goals, FSC Canada released the second version of its National Forest Management Standard at the end of November, which was reviewed beforehand by researchers, members of First Nations peoples, and economic and environmental representatives.