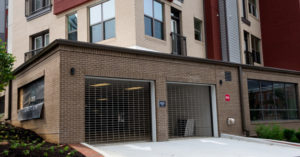 When designing for municipal, university, school, and hospital (MUSH) sectors, architects and other specifiers have a responsibility to protect building occupants and vulnerable assets. From addressing the threat of extreme weather events and designing for day-to-day safety and security to reducing the threat of deadly fire and smoke migration, there are a wide variety of considerations that directly affect life safety.
While many of these factors depend on the geographic location of the facility and its intended use, there are several new safety-driven rolling door and grille solutions that can greatly enhance protection—for Canadian students, teachers, government workers, health care employees, and patients—from life-threatening events.
These advanced new door and grille innovations safeguard building occupants from tornadoes and other extreme weather conditions, restrict the spread of toxic smoke, and allow specifiers to design safer parking structures by improving access point security.
In the latest edition of a series of free, downloadable e-books, an article provides examples that highlight the various life-safety threats specifiers can safeguard building occupants against with rolling door assemblies. To get your copy of the "Designing MUSH Facilities" e-book in either pdf or digital edition, visit www.constructioncanada.net/ebook/designing-mush-facilities-de.