Frank Gehry revises design of supertall Toronto towers
by nithya_caleb | February 16, 2021 10:54 am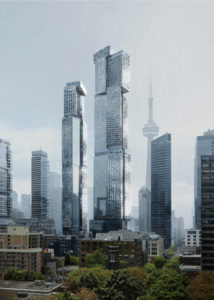 Great Gulf[2], Westdale Properties[3], and Dream Unlimited[4] recently showcased the refined designs of the Gehry Toronto Project[5] at a community meeting organized by the City of Toronto.
World-renowned, Toronto-born architect Frank Gehry[6] and members of his team revealed the latest refinements of the mixed use, two-tower project at the cultural intersection of King Street West and Ed Mirvish Way. The new plan for the condo towers includes commercial, retail, and residential spaces in addition to a new space for the Ontario College of Art and Design University[7] (OCAD U).
The latest refinements to the design maintain both the height and density that were approved in a 2017 zoning by-law amendment.
Specifically, the latest changes adjust the organization of the towers on the site, enhance the podiums, and optimize the floor plates of both towers to offer stunning views from each vantage point in the buildings.
The most recognizable refinement is the redesigned exterior building envelope, which will make the project  an instant landmark. The Gehry-designed buildings will be clad in a variety of energy-efficient materials and feature a unique textured metal and glass façade. The design provides for ever-changing vistas of the buildings depending on one's vantage point while continually providing a differing reflection of Toronto's skyline. Upon completion, the west tower will be the tallest Gehry-designed building in the world.
"With this project, I wanted to create an ensemble of buildings that were respectful to the city and referential to the Toronto that I once knew," says Frank Gehry. "I wanted the two towers to each have their own personality, but I also wanted them to talk to each other, creating a dynamic and changing addition to the skyline depending on where you were viewing them from in the city. The detailing of the exterior is intended to give the buildings a human scale and hopefully reflect the light and colour from the city and the sky around it. In the end, this should be a building of Toronto that I hope will make the city proud."
The changes to the podium incorporate the façade of the heritage Anderson Building, which was built in 1915, while respecting the views of both the Royal Alexandra Theatre and the Princess of Wales Theatre, which bookend the project.
"OCAD University is excited about the Gehry-designed project, which will offer our students and faculty enhanced learning and research spaces while providing opportunities to collaborate with the community on a wide variety of art, design, and media initiatives," says Ana Serrano, vice-chancellor, OCAD U.
A cultural corridor along Ed Mirvish Way will serve as a gateway to the site and a hub of public activity for the King Street West neighbourhood, the Entertainment District, and beyond. The intersection will become Toronto's centre for arts, culture and theatre.
Endnotes:
[Image]: https://www.constructioncanada.net/wp-content/uploads/2021/02/Gehry.jpg
Great Gulf: https://greatgulf.com/
Westdale Properties: http://www.westdaleproperties.com/
Dream Unlimited: http://www.dream.ca/
Gehry Toronto Project: https://mirvishandgehry.ca/
Frank Gehry: https://www.foga.com/
the Ontario College of Art and Design University: https://www.ocadu.ca/
Source URL: https://www.constructioncanada.net/frank-gehry-revises-design-of-supertall-toronto-towers/
---