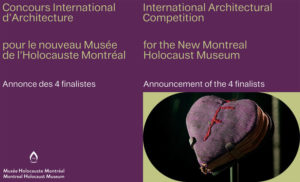 The Montreal Holocaust Museum has chosen four finalists to move to the second stage of its competition to design its new facility on Saint-Laurent Boulevard.
The jury has selected the following four firms from among 32 concepts, which were submitted anonymously from architects in nine countries during the first stage of the competition:
Atelier TAG et L'OEUF architectes en consortium
Saucier+Perrotte Architectes
KPMB Architects + Daoust Lestage Lizotte Stecker
Pelletier de Fontenay + NEUF architect(e)s
Taking into consideration the objectives and evaluation criteria set out in the competition rules, the jury will select the winning project in July 2022. All of the projects received during the first and second stages will be made public once the winner is announced.
This project addresses a growing public interest and a need for opportunities to learn about the history of the Holocaust, genocide, human rights, and the fight against racism and antisemitism.