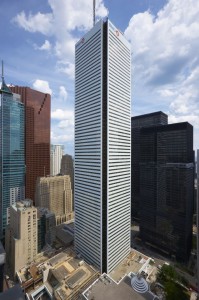 Canada's largest office tower, First Canadian Place, celebrated the completion of its large-scale rejuvenation project this week in Toronto.
Owned by Brookfield Canada Office Properties, Canada Pension Plan Investment Board (CPPIB), and Alberta Investment Management Corporation (AIMCo), the three-year redevelopment included:
recladding of the building's exterior with glass spandrel panels;
refurbished main entrance, retail hall, and office lobbies; and
additional commercial retailers and restaurants.
The completed project has also earned Gold certification in Canada Green Building Council's (CaGBC's) Leadership in Energy and Environmental Design (LEED) program.
Since the start of the project in 2009, the new features have allowed the building to reduce energy consumption by an estimated 24 per cent, emit fewer greenhouse gas (GHG) emissions, improve water efficiency, and also reduce the amount of construction waste sent to landfills through recycling programs.
The launch was celebrated with a public reception and ribbon-cutting ceremony on October 25.