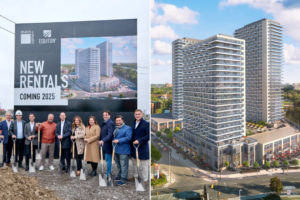 Toronto-headquartered developer, Main + Main, and Burlington-based real estate investment company, Equiton Inc., broke ground on a rental development, which aims to add much-needed housing to Ottawa's core.
The commanding three-tower project is a mixed-use, purpose-built rental development to offer more than a thousand residential units and over 1858 m2 (20,000 sf) of neighbourhood-serving retail space, on a 1.62-ha (four-acre) site. The location is 10 minutes away from downtown and the ByWard Market, close to the Queensway, University of Ottawa, and much more.
The firms have started work on phase 1, which includes building a 22-storey tower with 294 suites, ranging from studios to two bedrooms, featuring condo-like amenities to appeal to a larger market. The timing for Phase 1 is well aligned with the revitalization of Montreal Road, which is set to re-open later this month, and the recent modernization of the neighbouring Riverain Park.
The project is focused on creating a community atmosphere and promoting street-level connections with its planned development of a 1672-m2 (18,000-sf) public park, an urban courtyard, city parkette, and custom art installation with ground-level commercial opportunities throughout.
"It is not just three buildings; it is a lifestyle that is being built here, and a community," says Daniel Byrne, vice president of Main + Main.