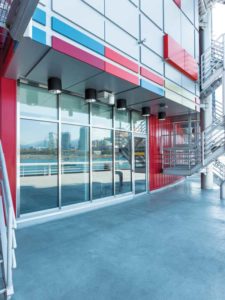 By Stephanie Miller
Building façades are being pressed to accomplish more. Architects increasingly require designs that offer more unique geometries and can stand up against a greater multitude of challenges. This is particularly true of glazing systems, which afford buildings with the natural daylighting needed to reduce energy usage, but must balance this with thermal efficiency, impact resistance, and—in certain key areas—fire protection.
It has become easier than ever for exterior glass walls to comply with code requirements for fire-resistance that also meet more stringent energy performance requirements and in a range of styles that meet architects' esthetic aims. Glass, however, is only one part of a fire-resistant glazing system. New framing options are increasingly stepping up to the challenges of providing fire-rated options for curtain walls and window walls that seamlessly integrate with non-rated solutions.
The need for exterior fire-rated framing
Fire-rated glass, which allows for the safe evacuation of people and protection of property at risk from fire by decreasing the speed by which fire spreads, is a critical component of many commercial buildings which works to enhance natural daylighting. There are two categories of fire-rated glass products:
Fire-protective glazing prevents the passage of flames, smoke, and hot, toxic gasses for a set period of time, which may be up to 180 minutes.
Fire-resistive glazing compartmentalizes fire; blocks flames, smoke, and hot, toxic gasses; and additionally blocks heat transfer for a set period of time, also up to 180 minutes.
Fire-resistance rated glass can meet virtually all the same fire performance criteria as opaque fire-resistance rated materials, with the obvious added benefit that it allows for natural daylighting, in accordance with the National Energy Code for Buildings (NECB). Options for fire-protection rated applications include fire-rated tempered glass, which can be certified to provide a smoke and flame barrier as well as safety glazing impact resistance. This glass can be adapted in numerous configurations, including lamination with multiple layers for greater impact resistance or sturdy insulating glass units that provide enhanced thermal comfort in addition to fire-resistance.
Many glazing products today offer significant levels of multifunctionality, combining features including energy-efficiency; hurricane, bomb and blast resistance; and fire-ratings in a single framed system.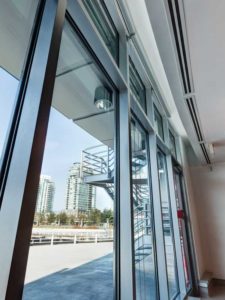 Having these options is critical in allowing ample natural daylighting, as any framing system in a building that is constructed within a set amount of distance from a property line—and this exact distance will vary depending on local code requirements—will very likely require a fire-rating up to a certain level. This fire-rating requirement is increasingly moving upward in cities that have put requirements in effect to protect air rights. For example, an architect who is designing a 30-storey building and knows the glass in some exterior walls will be near a lot line shared with an adjacent 10-storey building may require an exterior fire separation (with fire-rated glazing) up to the 10th storey. Fire-rated systems in exterior walls like these are critical in reducing the potential for horizontal flame spread and radiant heat transfer from fire in one building to adjacent buildings or lots.
Of course, the use of fire-rated walls may be based on other factors, as well, including the systems' role in providing structural integrity during a fire event or in the protection of exit pathways. For example, glass used in walls near exit courts, in exterior exit stairways, interior exit stairways, or exterior areas of assisted rescue may need to be fire-rated.
The challenge today, however, is to balance these fire-rated code requirements with increasing expectation for high-performing energy-efficient units in ever-narrower and less intrusive frames.
Code-driven innovation
Glazing systems are better able to meet these demands than ever before, due in part thanks to the innovations around wireless fire-rated glazing systems available today.
In the 1980s, wired glass systems were mandated in certain areas by many building codes, including the National Building Code of Canada (NBC) which for some time has solely recognized wired glass as an approved fire-rated glazing product. This all changed after reporting intensified around accidents involving children crashing into wired glass used in doors or windows at schools, only to be severely and in some cases fatally injured1 by the wire mesh that was put into the glass to prevent it from breaking and falling out of its frame when exposed to the high temperatures of a fire.
In most cases, wired glass has been eliminated from openings in exterior walls because of the way that wired glass reacts in insulated glass units exposed to fire. The idea behind wired glass was the wire mesh would keep the glass from falling out of its frame when it was exposed to fire, and eventually broke at temperatures of around 204 C (400 F). However, it became evident the standard aluminum spacer bars separating the outboard glass and the interior wire glass would also melt at about 204 C. This would allow the glass to move out of the opening and permit the passage of flame, smoke, and hot gasses. This failing pushed an upsurge in innovation and the development of not only fire-rated wireless glass products, but complementary components including rated framing, spacers, and sealants.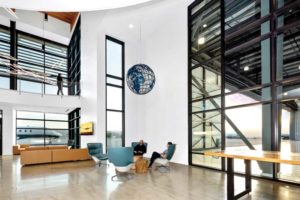 It was only recently, however, the wired "not-so-safe" safety glass option that had been banned in the U.S. and U.K. for several years was removed as a safety glass option from Canada's national building standards.2 In 2017, the publication of Canada's new safety glazing standard, CAN/CGSB 12.1-2017, which superseded CAN/CGSB 12.1 – M90, effectively prohibited the use of wired glass as a safety glazing option. The impending update to the model code, slated to become available early in 2022, is expected to require non-wired, fire-rated safety glazing alternatives in most hazardous locations. These non-wired solutions are expected to require third-party fire-rated certifications and safety glazing labels when used in Canada.
Experts expect that compliance with the updated standard CAN/CGSB 12.1-2017 will be mandatory for all glazing used in hazardous locations in Assembly Occupancies.3 Under the NBC, Assembly Occupancies are extensive and include any part of a building "used for civic, political, travel, religious, educational, recreational or like purposes or for the consumption of food or drink.'
While NBC updates are not enforceable until adopted by the applicable province, territory, or other local jurisdiction, ignoring them may put architects, specifiers, and building owners at risk since, in the event of an accident, they may be viewed in legal proceedings as establishing a "standard of reasonable care" even before their formal adoption. Fortunately, for those at risk, there are several new, sophisticated, non-wired fire-rated glazing systems that are able to meet this new standard in fire-rated applications.
Exterior framing performance
Fire-rated glass does only half the work in achieving fire protection. Fire-rated glass solutions must be combined with compatible fire-rated frames and installed as part of a singe tested and approved assembly or system to be deemed acceptable to the authority having jurisdiction.
While glass technology advanced dramatically to account for the shift away from traditional wired glass, framing has only recently begun to catch up. For years, the only framing option to support fire-rated glass has been a bulky, wraparound hollow metal steel. This hollow steel often required designers to get creative with integrating fire-rated framing into surrounding, non-fire-rated framing systems, without interrupting the overall esthetics of the façade.
Today, there are options that flow more seamlessly from non-fire-rated to fire-rated systems. Steel is a standard choice for fire-rated glazing framing materials. It is a non-combustible material that, in general, is heat-resistant to temperatures of up to 538 C (1000 F) and can easily pass fire tests for up to three hours. It is also easily incorporated into a thermally broken frame that supports low heat transfer and high energy-efficiency performance.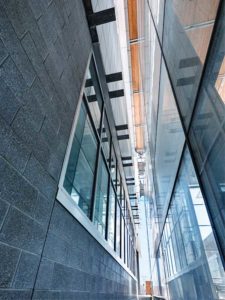 Fabricators are beginning to change their processes for forming steel frames, in part to accommodate the demand for larger expanses of fire-rated glass in exterior applications. Rather than forming frames from sheets of hot-rolled or welded materials, steel framing fabricators may roll tubes or laser-weld frames to create narrower mullion profiles with more defined corners and edges. The precision available from these modern techniques also allows fabricators to create customized solutions for the most complex designs. Most importantly, this shift in production processes means today's fire-rated steel framing easily blends visually with non-fire-rated glazing assemblies. This allows architects to create expansive glass façades that comply with fire and impact safety code requirements.
Some fabricators are also incorporating custom cover caps and surface finish options, including hardwood veneers, that further support this visual integration among systems.
Testing the system
When it comes to fire-rated testing, the glass and framing are simply parts of a larger story. These components must be tested as part of a complete system, to include anchors, structural adhesives, and cavity treatments such as insulating spacers in compliance with CAN/ULC-S101, Fire Endurance Tests of Building Construction and Materials. This requires up to two hours of exterior performance under static and dynamic water pressure testing; air infiltration testing; thermal cycling and condensation evaluation; and structural, seismic, and inter-story displacement testing.
Here, again, material researchers are making several advancements in the types of exterior fire-rated glazing systems that they are currently testing. Today, architects have options in fire-rated curtain wall systems. Unlike window wall systems that sit between the floor slabs, curtain walls are attached to the outside of the floor slabs where they act as a "curtain" hung from the building to provide massive expanses of visually seamless glass. These systems are typically used for fire-rated applications because of the ease of providing an efficient thermal break between the interior and exterior frames. This option also allows more flexibility in glass thicknesses as well as larger sizes.
As the systems essentially "lock" together, they add structural strength to the curtain wall and provide protection against high wind loads, among other threats. Due to its structural strength, curtain wall can handle larger glass sizes than window wall, and the demand for these larger expanses only continues to increase. Over the last two years, architects have requested vision areas that are larger by 20 per cent, on average, than in the past.
A fire-rated curtain wall system must include a compatible cavity treatment. Because curtain wall sits outside the slab edge, it creates a void from floor to floor between the floor slab and exterior wall. If ignored, this void can allow fire and smoke to move to the floor above. An appropriate firestopping perimeter system must be installed at these voids. There are two types of such treatments, in general. The first option is to seal the space with a UL-listed intumescent sealant.
Once the temperature starts to increase in the event of a fire, the intumescent sealant expands and closes all voids, preventing the escape of gas or flame. As a result, it maintains the integrity of the inside glass surface, preventing the framing from getting overheated to the point that it could cause a thermal shock to the application.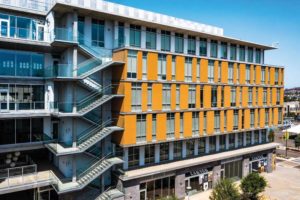 The other option is to use ULC-labelled mineral fibre wall insulation. In this case, the void is packed with the insulation, which can withstand temperatures of excess of 538 C. With the mineral wool, any type of exterior and interior sealant can be used to seal the area. Either option can be effective in preventing flame transmission.
With advances in installation technology, fire-rated curtain walls can be installed using either of two popular options. In a structural silicone-glazed curtain wall system, the glass is supported on all four edges by metal mullions. The glass is attached to these fire-rated mullions with a structural silicone bond-joint, rather than traditional metal retainers and exterior metal trim, to create a seamless surface appearance. Options are available with up to 120-minute fire-resistance-ratings.
Alternatively, in a butt-glazed system, the metal framing supports glass on only two edges. The top and bottom of the panels sit in a fire-rated perimeter frame, while the adjacent glass lites are connected with a silicone sealant weather-seal.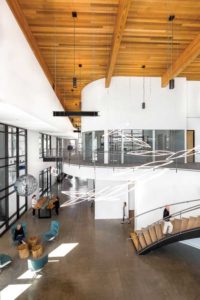 This look has been increasingly popular in non-rated glazing applications, but some flush butt-joint glass solutions can provide fire-resistive properties for as much as 120 minutes even without vertical frame profiles by using a fire-rated sealant solution.
In general, this exterior style depends on the hourly rating that must be achieved. A 60-minute opening might dictate a flush, butt-joint approach. By offsetting the glass to allow for a shallow face reveal, designers can create a flush exterior appearance while gaining more flexibility in the overall glass thickness installed. A two-hour fire-rating, on the other hand, might dictate a centre glaze approach.
Find the right balance
There are now more options than ever to balance critical fire-rated glazing requirements with high-performing energy-efficiency glass units. The shift toward narrower framing to support increasingly larger vision areas is also opening up new design possibilities. This multitude of possible glazing system combinations may require a more holistic focus on testing, but manufacturers are increasingly proving they are up to the challenge of balancing code requirements and esthetic aspirations in a single frame.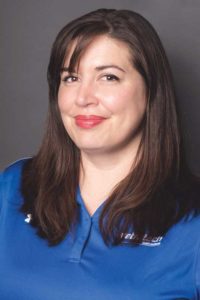 Stephanie Miller leads marketing and communications for Vetrotech Saint-Gobain in North America. Miller can be reached via email at stephanie.miller@saint-gobain.com.

Control the content you see on ConstructionCanada.net!
Learn More.