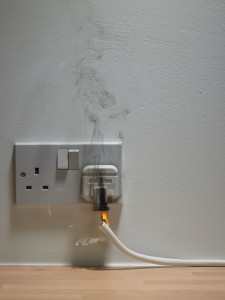 Renovations requiring upgraded life safety systems to comply with codes are fuelling the booming Canadian market for fire protection in buildings.
Research from Frost & Sullivan's "North American Fire and Life Safety Market" reports a fire and safety market of $2.1 billion in 2010, estimated to reach $2.37 billion in 2015. This predicted boost can be attributed to National Fire Protection Association (NFPA) standards, which ensure buildings are equipped with adequate fire and safety equipment. Some provinces have already adopted NFPA standards, and the National Building Code of Canada (NBC) references these documents.
"The market has witnessed a shift toward use of fluorinated ketone (FK) agents such as Novec 1230 fire protection fluid because they have zero ozone depletion and negligible global warming potential," said Frost & Sullivan analyst Alejandra Lozano. "Water mist suppression has also seen a recent surge in interest from end-users, mainly because these systems consume less water, which promotes the green environment concept."
Building owners and design professionals are keen to comply with fire codes, but are also particular when choosing products with low environmental impact. Some gaseous fire suppression agents' high global warming potential and carbon dioxide (CO2) human exposure issues have driven use of systems employing clean agents.
Another trend involves escalating product competition causing price wars. As a result, manufacturers must either cut production costs or offer innovative new products at competitive prices. Fire and safety equipment promotion based on technology may also benefit the industry and customers.