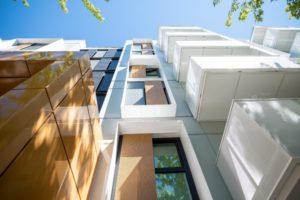 New Passive House-certified faculty and staff rental housing at University of British Columbia, Vancouver, will aid in future research relating to lifecycle performance of similar buildings, focused at helping the broader development community design affordable and energy efficient infrastructure.
Designed by ZGF Architects and built by Peak Construction Group for UBC Properties Trust, and located in the university's Wesbrook Place neighbourhood, Evolve is a six-storey, 110-unit residential building spread over 9569 m2 (103,000 sf).
In 2018, a project team consisting of UBC Properties Trust, UBC's School of Architecture and Landscape Architecture (SALA), and UBC Campus and Community Planning (C&CP) secured a $3.5-million grant from Natural Resources Canada to support development of the project.
Evolve's Passive House design elements include:
High performance windows—triple glazed "tilt and turn" windows, which significantly increase natural ventilation rates over typical residential buildings in B.C.
High-efficiency mechanical system—heat recovery ventilation system continuously providing filtered air to create a healthy living environment
Thermal insulation—a thicker insulation and assembly was required to create a thermal barrier
Building envelope continuity—elimination of cold patches or drafts. The design and construction both account for less air leakage through the structure and the building envelope
Mixed-mode cooling—ventilation air provided throughout the building is cooled via an energy-efficient heat pump, but sensors on operable windows and patio doors ensure maximum cool air is only supplied to residential suites when their windows are closed– the ventilation will reduce to a minimum but will not fully turn off.
Exterior shading—movable shades to limit heat and exposure of the sun
Michael White, associate vice president of C&CP said, "Through SALA and C&CP we are aiming to contribute clear data to the broader development industry's ability to realize affordable, low carbon, high performance residential buildings. As we plan the future of our campus, including building more housing for our community, the learnings from this project will support our Climate Action Plan goal to reach net zero emissions in our campus operations by 2035, as well as informing our work in developing climate plans for other neighbourhoods."