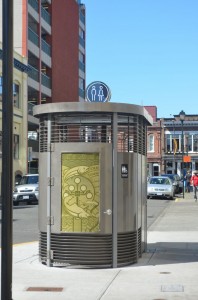 Five finalists for Canada's Best Restroom contest—ranging from a mobile toilet with solar-powered lighting to a renovated warehouse with oil paintings—have been announced.
The third annual competition, put on by Cintas Canada—a uniform, data management, and restroom-cleaning company—aims to recognize businesses creating unique and clean facilities for customers.
This year's finalists are:
• Centre for Professional Training (CFP)—vocational school (Repentigny, Qué.);
• Earls, King Street location—restaurant (Toronto);
• Georgian Court Hotel (Vancouver);
• Langley Street Loo—publically accessible restroom (Victoria); and
• This is London—nightclub (Toronto).
The competition's survey editor, Sabrina Zimring, explained some of this year's trends to Construction Canada Online.
"We're seeing a lot of designers taking measures to save space, sometimes using compact designs in the vanities, toilets, and urinals," she said. "We're also seeing unusual bathroom basins and elegant lighting, such as pendent lighting, or something with a minimal, modern, and sleek look. Also, antiqued chandlers are being used as a focal point."
Zimring explained cleanliness and convenience are key factors in a winning restroom design, but over the years more restrooms are incorporating sustainable features.
"We continue to see a spike in designers going green," she explained. "We see touch-free hand-dryers, automatic-flow faucets, low-flow toilets, and compostable or recyclable paper products."
Voting is open to the public at www.bestrestroom.com/canada/vote.asp, and the winner will be announced later this fall.