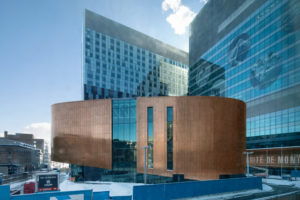 In 2018, Jodoin Lamarre Pratte architectes and Menkès Shooner Dagenais LeTourneux Architectes were commissioned to complete the final phase of the new Centre hospitalier de l'Université de Montréal (CHUM) in the city's downtown. This latest phase of the project follows those of the research centre (2013) and the hospital (2017, phase 1). The project was designed by CannonDesign and NEUF architect(e)s.
Aiming for Leadership in Energy and Environmental Design (LEED) Silver certification, this new facility integrates advanced technologies and creates a care and research environment that puts people at the heart of every activity.
Big project, big challenges
Located in the heart of a busy downtown Montréal quadrangle, the CHUM hospital complex is integrated into a dense urban environment, near the Ville-Marie expressway, a metro station, and the city's cosmopolitan and historic districts.
"This location presented many challenges," said Joanne Parent, project manager. "First, the hospital had to remain in continuous operation and the work had to be done in such a way as not to compromise the safety of hospital users."
"Secondly, the excavation and design of the structure had to be such that it would not impose any load on the city's infrastructure (several underground services) or on phase 1, nor would it impede traffic flow around the hospital," Parent said.
Such a development in a hospital setting involves a multitude of considerations including specialized medical equipment, confidentiality requirements, infection control issues, traffic flow, and layout efficiency.
"Everything is meticulously analyzed, designed, and built to create a care environment that is fully adapted to the activities taking place there, people who work there, and users who are cared for and accompanied there," said Martine Gévry, responsible for planning the clinical functional units. "If all of this proved to be feasible in this last phase of the CHUM, we must also add the challenges of an efficient and well-thought-out execution in a cramped street setting, where each movement of manpower or materials requires an almost endless mathematical calculation."
The human being first
This last phase of the CHUM aimed to create an environment capable of welcoming and accompanying users, supporting them through diagnoses, treatments, follow-ups, and visits, in short, a caring environment for patients and for staff who work there.
An assessment of the plans was conducted to understand the frequent critical linkages between the different rooms, clinics, and offices. Units were reorganized to optimize floor space and reduce travel distance, allowing medical staff to spend more time with patients.
Pierre-Péladeau Amphitheatre
With its unique and distinctive shape and its envelope made of copper panels, a durable material reminiscent of the roofs of several institutional buildings in Montréal and elsewhere in Québec, the Pierre-Péladeau Amphitheatre constitutes the "heart" of the project. The main auditorium, initially designed with fixed bleachers, was redesigned to integrate retractable ones. This large multifunctional auditorium, including varied technological and scenographic equipment, can accommodate 365 people in its standard configuration, while in cabaret mode, it offers nearly 150 seats. The building also houses five modular meeting rooms (the movable walls allow for the configuration of up to 10 meeting rooms), where acoustic is ensured using triple glass.
The building's volumetry and large spans were achieved through a complex load-bearing frame and cantilevered shell and floors. Integrated above the underground parking lot, surrounded by a perimeter circulation path with access to the parking lot, and equipped with a full-width glass skylight on the roof, this amphitheatre was the source of many functional and technical challenges and required mastery in both design and execution.